Celestina L. Flores, director of the Family and Veterans Advocacy Clinic of Texas A&M University School of Law, announces the awarding of a $75,000 grant to begin a new program for veterans.
The grant is funded by the Texas Veterans Commission Fund for Veterans' Assistance. The Fund for Veterans' Assistance (FVA) provides grants to organizations serving veterans and their families.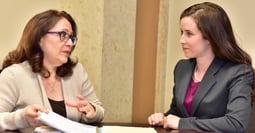 The one-year grant began early July and will enable clinic staff attorneys Lynn Rodriguez and Karon Rowden to provide pro bono legal assistance to veterans who are residents of Ellis, Navarro and Wise Counties. Because of their residency in these three rural counties, these veterans may not have as much access to pro bono legal assistance as the veterans living in the DFW Metroplex.
The clinic, through the FVA grant, will start conducting outreach efforts and interviews in the counties mentioned when safely allowable due to COVID-19 concerns.
Clinic staff will provide legal assistance to eligible veterans who are at a certain poverty level, in a variety of areas of law, such as family law, (including but not limited to divorce, child custody and support, modification of prior orders, and/or child support enforcements); preparation and drafting of wills and end-of-life documents; landlord / tenant issues; expungements; consumer issues and petitioning for an upgrade of military discharge status.
Clinic attorneys have represented countless veterans in numerous cases for years and are well experienced and trained in these issues, according to Flores.
"We are very happy and excited to be able to extend our efforts in to these counties and to these veterans. We hope to exemplify the Texas A&M Aggie core value of selfless service by providing pro bono help to those who have sacrificed so much for our country and our communities," she says.