The American Bar Association (ABA) Standing Committee on the Delivery of Legal Services recently published Results of the Legal Incubator Lawyers' Survey conducted by Texas A&M University School of Law Professor Luz Herrera.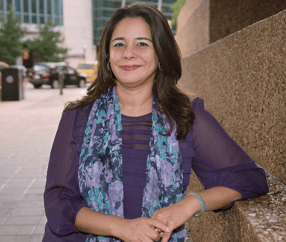 According to Herrera, this is the first and only national study that seeks to measure the impact of these programs on the career development of lawyers who largely continue in solo and small firm law practice.
"Solo and small firm law practice is perhaps the most under-researched field in the legal profession, despite the fact that it's also the largest sector of all lawyers," she said about the relevance of the study.
Legal or law firm incubators help lawyers develop and launch law practices while expanding access to underserved populations. Based on similar business incubator models, legal incubators provide space, mentoring, and training to licensed lawyers. Since first appearing in 2007, more than 70 self-identified legal incubator programs have emerged around the globe.
Herrera's study surveyed participants in legal incubator programs spanning eighteen U.S. states. Following up a previous study conducted in 2016 that focused on the structure and design of legal incubator programs, the new study's purposes were to:
Confirm the program-reported data;
Understand the characteristics and experience of incubator participants;
Measure the short-term impact on career development;
Gauge incubators as a model to address new lawyer training; and
Provide a baseline for measuring and comparing to others' experience nationwide.
Of particular importance, Herrera notes, is that the study was conducted in 2018-19 prior to the interruption of the pandemic. "Before the pandemic, few lawyers were focused on online legal service delivery," she said. Less than a quarter of the survey participants indicated that they interacted with clients remotely and only six percent reported communicating with clients using an online portal.
"We need to better understand how the solo and small firm bar has adapted to online legal service delivery during the pandemic," says Herrera. She's also interested to see if those who keep some of these online skills see an impact on their practice as a result of this new normal.
Herrera says the the study provides some interesting insights:
Legal incubators support the career development of lawyers interested in starting solo and small firm law practices.
Lawyers of color are overrepresented in these programs compared to their national representation in the legal profession.
73 percent of respondents indicated they joined an incubator to establish a new law firm or to grow an existing one.
Participants identified hands-on experience, mentorship from experienced lawyers, peer support, and subsidized business costs as the most valuable parts of the program.
More than 80 percent of respondents expressed satisfaction with their career.
Incubator programs attract lawyers that provide personal legal services such as family law, criminal law, estate planning, and real estate.
More research is required to understand the long-term impact of these programs on lawyer participants and the clients they serve.
"I hope this research will help affirm the need to continue investing in these programs to support the training and career development of lawyers who practice in solo and small firms," Herrera says. "Programs to support and train these lawyers is critical to a functioning legal system because they provide personal legal services to the vast majority of Americans."