Lora Naismith, first-year law student, is Texas A&M School of Law's Aggie of the Week. Naismith received her undergraduate degree from Texas A&M University in biology.
Naismith's favorite class is civil procedure. "I enjoy the intricacies of the rules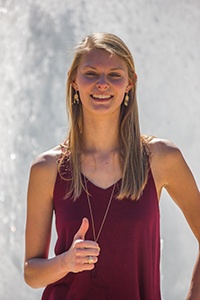 behind how cases are handled. They're like puzzles that you get to piece together," says Naismith.
Saurabh Vishnubhakat is her favorite professor. "I appreciate his teaching style. He is very thorough, and I feel like I learned something important after every class," says Naismith. "I also think his bow tie collection is fantastic."
Naismith likes that Texas A&M School of Law is made up of people full of ambition. "I'm constantly impressed by how quickly we've been able to jump in rankings, even with how young the school is," says Naismith.
A fun fact about Naismith is that her great-great grandfather, Dr. James Naismith, was the inventor of basketball.
About Texas A&M School of Law
Texas A&M School of Law is an American Bar Association-accredited institution located in downtown Fort Worth. In 2013, the law school acquired Texas Wesleyan University School of Law and has increased faculty and students exponentially in its five-year existence. The law school ranks highly nationwide in dispute resolution and intellectual property and offers 11 clinics that introduce students to real-world applications of the law. For more information, visit law.tamu.edu.
About Texas A&M University
Texas A&M, established in 1876 as the first public university in Texas, is one of the nation's largest universities with more than 66,000 students and more than 440,000 living alumni residing in over 150 countries around the world. A tier-one university, Texas A&M holds the rare triple land-, sea- and space-grant designation. Research conducted at Texas A&M represented annual expenditures of more than $905.4 million in fiscal year 2017. Texas A&M's research creates new knowledge that provides basic, fundamental and applied contributions resulting, in many cases, in economic benefits to the state, nation and world.