In the months since my appointment as dean of Texas A&M School of Law, exciting news has come across my desk in a flurry: A colleague received a $371,000 grant from the National Science Foundation. Faculty scholarship has been published in the California, Georgetown, NYU, UCLA and other top law reviews. A tenth state adopted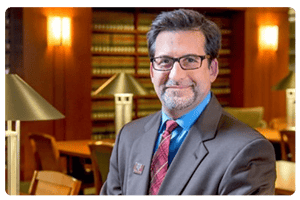 the Uniform Law Commission model law developed by another colleague. We admitted our most academically qualified and most diverse class ever. And both our bar passage and employment rates jumped significantly.
In real time, I have been able to witness the type of accomplishments that underlie the Law School's broader advance in recent years. I am especially proud of three clusters of achievement:
Faculty Excellence
11 members of the American Law Institute

28 new faculty since 2014 (many of whom gave up endowed chairs to join us)

Top 50 schools in recent SSRN downloads

Distinctive Strengths in Intellectual Property & Technology (#7 ranking in S. News), Dispute Resolution (#12 ranking), and Natural Resources/Environment
Interdisciplinary Engagement
$1.1M in external grants since 2017

10%+ of tenure-stream faculty have joined in cross-departmental grant proposals

20%+ of tenure-stream faculty have joint appointments/affiliations
Diversity
28th in the nation in faculty diversity

50% increase in ethnic diversity of the 1L class since 2016

62% of the 1L class are women
I hope you can see why I am so excited to be here and why I hope you will have the opportunity to get to know our community – and perhaps even come to visit!
As we say here at Texas A&M: Gig'em!