Texas A&M University School of Law alumnus Brett Miller (class of 2016) fondly recalls his time in law school, especially those classes and learning opportunities with Natural Resources Systems Professors Gabriel Eckstein and Harry Sullivan. Miller, who now uses his legal education as a part of the investment team at Water Asset Management (WAM) in Fort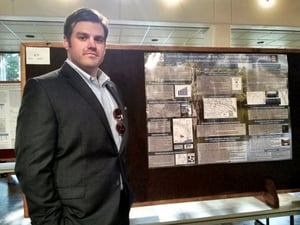 Worth, emphasizes that the diversity of natural resources classes at Texas A&M Law have served him well in his career.
During law school, Miller completed many natural resources courses including Oil & Gas, Energy Law, Environmental Law, International Petroleum Transactions, Water Law, and an immersive experience in Mexico on Water Law. Coupled with his work as Professor Eckstein's research associate, these experiences led to several publications and presentations that catapulted Miller's career.
As part of his job with WAM, Miller spends much of his time on the road—traveling across Texas to locations in the Permian Basin, deep east Texas, and the Gulf Coast, searching for surface water and groundwater deals and managing due diligence on potential acquisitions—for a company that owns water assets in Arizona, Nevada, Colorado, and California. He speaks with both landowners and water-industry professionals to source and negotiate "buy-side" and "sell-side" transactions related to those assets. Miller emphasizes that the foundation for his career in the investment realm includes distinct channels represented by divergent legal regimes and the regulatory separation between surface water and groundwater.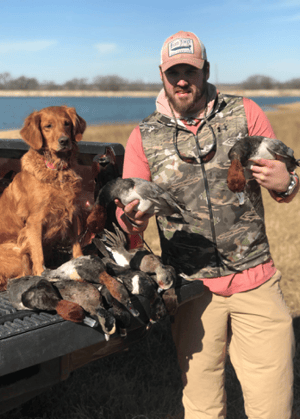 "An interdisciplinary approach to my job is crucial," explains Miller. "When we buy land associated with water rights, many different areas of law come into play: water, oil & gas, real property, transactional, corporate, private equity, and finance. Understanding the legal foundation, therefore, allows investors to take measured and calculated risks sequentially, and undervalued water supply assets have the potential to generate desired returns in the marketplace."
Miller credits his experiences at Texas A&M law for setting him on his career path in the water-industry, and is glad to know that the NRS program is growing: "Bringing in more NRS faculty and increasing the program size is good for the interdisciplinary aspect. Getting oil and gas, water, and environmental legal minds under the same umbrella can definitely get more people engaged."
Today, Miller remains involved in many groups, including the Institute for Energy Law, and other organizations that focus on conserving wetlands like Delta Waterfowl and Ducks Unlimited. Since graduation Miller has published Navigating the Confluence: Sources of Reconciliation Flowing Between the Human Right to Water and Economic Efficiency (available here); co-authored and published a chapter in the Drainage Reuse Initiative Feasibility Study for the Harris County Flood Control District; and authored a chapter on Hydraulic Fracturing Interactions with and Implications for Groundwater.
About the Program in Natural Resources Systems
Natural resources are an integral and undeniable component of modern societies globally. These resources are critical for energy, agriculture, manufacturing and economic development in general. Our natural environment is a highly complex and integrated system, and sound decision-making related to the sustainable management of natural resources and the environment requires a broad and interdisciplinary approach. Learn more about NRS.
About Texas A&M School of Law
Texas A&M School of Law is an American Bar Association-accredited institution located in downtown Fort Worth. In 2013, the law school acquired Texas Wesleyan University School of Law and has increased faculty and students exponentially in its five-year existence. The law school ranks highly nationwide in dispute resolution and intellectual property and offers 11 clinics that introduce students to real-world applications of the law. For more information, visit law.tamu.edu.
About Texas A&M University
Texas A&M, established in 1876 as the first public university in Texas, is one of the nation's largest universities with more than 66,000 students and more than 440,000 living alumni residing in over 150 countries around the world. A tier-one university, Texas A&M holds the rare triple land-, sea- and space-grant designation. Research conducted at Texas A&M represented annual expenditures of more than $905.4 million in fiscal year 2017. Texas A&M's research creates new knowledge that provides basic, fundamental and applied contributions resulting, in many cases, in economic benefits to the state, nation and world.