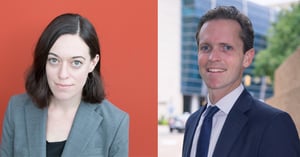 Professors Hannah Bloch-Wehba and William Magnuson of the Texas A&M School of Law recently were selected to present articles at the Stanford/Yale/Harvard Junior Faculty Forum.
Bloch-Wehba presented her article, "Visible Policing: Technology, Transparency, and Democratic Control," forthcoming in the California Law Review, at the Forum's gathering at Stanford Law School in July. In this new work, she explores the significance of police transparency in the context of democratic governance and constitutional criminal procedure.
Magnuson presented his work, "The Race to the Middle," newly published in the Notre Dame Law Review, at last summer's Forum at Yale Law School. His article examines how our constitutional system of federalism affects the incentives of states when they enact new laws.
Each year, a collection of the nation's most prominent legal scholars select 12 junior-faculty authored articles via a blind review process for the Forum. Over the past two years, Texas A&M is one of just three law schools in the nation to have works by two faculty members included in the program.
"The selection of Professors Bloch-Wehba and Magnuson to present at this prestigious forum for junior scholars is a testament to their path-breaking research," says Professor Timothy Mulvaney, the Associate Dean for Faculty Research at Texas A&M. "The innovative approaches they set out in these two papers will deepen ongoing conversations in their respective fields. We are proud of their contributions to date and excited to support and witness their future successes."
---
Abstracts:
Hannah Bloch-Wehba,Visible Policing: Technology, Transparency, and Democratic Control
Law enforcement has an opacity problem. Police use sophisticated technologies to monitor individuals, surveil communities, and predict behaviors in increasingly intrusive ways. But legal institutions have struggled to understand—let alone set limits on—new investigative methods and techniques, for two major reasons. New technologies of surveillance, often procured from or otherwise reliant on the private sector, tend to operate in opaque and unaccountable ways, augmenting police power while remaining free of meaningful oversight. At the same time, shifts in Fourth Amendment doctrine have expanded law enforcement's ability to engage in surveillance free of oversight or scrutiny by courts or by the public. The result is that modern policing is not highly visible to oversight institutions, and is becoming even less so.
In light of these informational dynamics, transparency litigation has become a core technique for rendering obscure investigative practices visible and holding police accountable. These new lawsuits form a criminal procedure "shadow docket"—they resolve important questions about democratic governance of policing without deciding on the constitutionality of searches and seizures. This Article builds on the government secrecy literature to explore the significance of this "shadow docket" and the relationship between transparency obligations and constitutional limits on police action. In the absence of meaningful Fourth Amendment safeguards, the Article shows, transparency makes policing practices increasingly visible to the public and to democratic institutions in areas in which constitutional criminal procedure today has minimal reach. These efforts to make policing visible bear important lessons for advocates and scholars of criminal procedure, criminal justice reform, and transparency itself.
William Magnuson, The Race to the Middle
How does federalism affect the quality of law? It is one of the fundamental questions of our constitutional system. Scholars of federalism generally fall into one of two camps on the question. One camp argues that regulatory competition between states leads to a "race to the bottom," in which states adopt progressively worse laws in order to pander to powerful constituencies. The other camp, conversely, argues that regulatory competition leads to a "race to the top," incentivizing states to adopt progressively better laws in the search for more desirable outcomes for their constituencies. Despite their apparent differences, however, both the "race to the bottom" camp and the "race to the top" camp share one fundamental assumption—that federalism leads to extremes. In other words, when states compete on regulatory regimes, they inevitably race to high or low levels of regulation, hoping to outdo one another by distinguishing themselves from their peers. This Article, however, argues that both these models of federalism fail to account for another powerful dynamic that pushes states, not to distinguish themselves from the crowd, but rather to fit into it. This "race to the middle" leads states to adopt regulations that are similar, or even identical, to the regulations adopted by large numbers of other states. The resulting "race to the middle" causes state law to gravitate towards mediocre but satisfactory regulatory outcomes, not efficient or inefficient ones. The Article demonstrates how the "race to the middle" is driven by four inter-related factors: first, the informational benefits that accrue to states that adopt well-established legal regimes; second, the demand by constituents, and in particular corporations, for familiar regulatory regimes; third, the network effects from interoperable regulatory regimes; and fourth, the reduced risk of federal intervention that arises when states adopt mainstream regulatory structures. The Article concludes by assessing the implications of the "race to the middle" for theories of federalism and democratic governance.