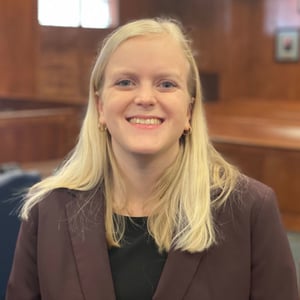 Claire Brown '20 is one of 77 recent law school graduates recently granted a 2021 Equal Justice Works Fellowship, one of the most prestigious and competitive post-graduate legal fellowships in the country.
Brown will be working with Catholic Charities Dallas (CCD) over the course of two years to help provide appellate representation to detained indigent immigrants in Dallas-Fort Worth. The focus of her efforts will be to develop resources that give detainees a better understanding of the appeals process so they can represent themselves when she cannot. She will also help build CCD's network of pro bono attorneys to represent detainees on appeal.
"No one deserves to be separated from the life they know, or forced to live without their family, simply because they couldn't afford an attorney to appeal their case. Or were detained. Or didn't understand the law," Brown said.
In the entire Dallas-Fort Worth metroplex, there are only a few nonprofit organizations that are willing to represent detained immigrants and none currently have the resources to do more than a handful of appeals.
Brown aims to remedy this lack of resources and representation for individuals in immigration detention who want to appeal their cases and help increase fairness in the removal proceeding process. Her desire to keep families together motivates her work to help immigrant detainees.
Equal Justice Works is the nation's largest facilitator of opportunities in public interest law. Each of the 77 law school graduates, in collaboration with a legal services organization, has designed a two-year Equal Justice Works Fellowship project to address the unmet legal needs of the community where they will serve.
"We take great pride in launching the careers of passionate public service leaders through an Equal Justice Works Fellowship," said David Stern, executive director at Equal Justice Works. "We look forward to supporting our new Fellows in bringing critical legal services to communities still reeling from the effects of the pandemic, and in their work responding to ongoing racial injustice throughout our country."
This year's Equal Justice Works Fellows were selected from over 466 applicants.