Last week, I completed my first year at Texas A&M University, as dean of Texas A&M University School of Law. While every job has its challenges – and its moments – I count myself lucky to have landed at an institution that's a perfect fit with what I've long seen as the critical requirements for a great deanship. My question has always been whether a school combines both the will and the capacity to move to the next level in its development – and whether there is something in my background might enable me to help it get there. I'm not the right person to judge the latter. But I can honestly say that I've seen no law school in the nation that better fits the rest of that test than Texas A&M University School of Law.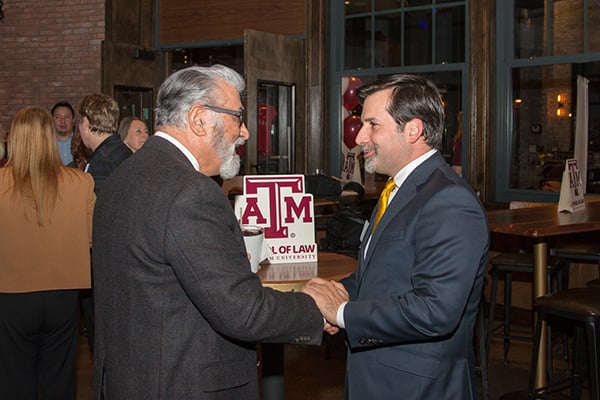 Texas A&M University, my Texas A&M University School of Law colleagues, our former students, and the entire community – of Fort Worth City Hall (City of Fort Worth), North Texas, and Texas as a whole – could not be more deeply committed to the success of the law school. The necessary will is thus definitely there.

As to capacity, meanwhile, at the intersection of Texas A&M University's strong support for Texas A&M University School of Law (in every respect), the excellence of our faculty (in every respect) and its shared aspirations for the our onward advance, and a great location (in myriad respects), the sky's the limit.

Beyond those fundamentals, though, there are three reasons I can say I truly love my job at Texas A&M University School of Law. The first is the "building" project it entails. For many an academic administrator, the job is basically to maintain the status quo. Quite to the contrary in my case. Closer to the mark might be a "What have you done for me lately?" model. As a university, Texas A&M University constantly asks some version of the question: What can we do differently today, to be better tomorrow? Never boring, that mindset makes for a pretty exciting environment to be dean.

A second reason I love my job – perhaps oddly for some who know me – is that it's in Texas. If you'd told me a year ago how much I would know about football – as we come into the fall with a top 10 ranking in our commits for next year – I'd say you were thinking of someone else. If you told me a year ago that I'd have attended a rodeo, I would have laughed. Let alone that I'd have gone seven times. And even ridden a horse in one! (If anyone needs to know where to get cowboy boots or a hat, by the way, call me anytime.) All of that, though, has made my job as dean that much more interesting – and engaging. Sure, I go to lots of meetings, like every dean. But wearing a cowboy hat to some of them makes all the difference.

Finally – and most importantly – I love my job because of the good fortune of having colleagues who are deeply committed to the scholarly project, to our students, and to the goal of moving the law school forward. I'm not sure I have known a group more open to new ideas and more willing to give them a chance. As often as not in legal education today, we don't know the answers. But if we bring to our efforts an experimentalist mindset – giving things a try, seeing how they go, and adjusting accordingly – the sky (once again) is the limit. I'm lucky to be surrounded by colleagues who think just that way.

So, that's my end-of-year report as dean of Texas A&M University School of Law.

In sum: It's been a blast!