Texas A&M University School of Law first-year students participated in a poverty simulation during orientation last week. Conducted by the Texas Access to Justice Commission, the simulation's purpose, according to the Commission, was to give students a "small taste of what life is like on a limited income." Participants faced challenges that frequently plague families with limited resources, and they were asked to note thoughts and emotions for a discussion following the simulation.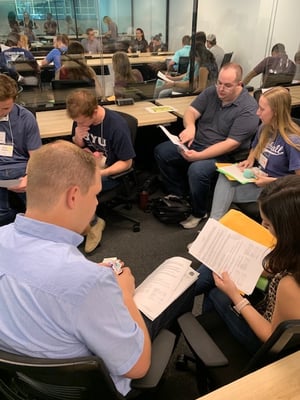 One hour represented one month's time, and students had to survive by:
Keeping their housing secure
Buying the required amount of food each week
Keeping utilities on
Making all payments
Responding appropriately to unexpected factors
Keeping infants in daycare and school-age children in school
"This is not a game," said Shawna Smith-Thornton of TAMU Law's student affairs office. "Millions face these challenges every day."
Family profiles were distributed, and participants were asked to assess if their housing was too small for their families or if their neighborhoods were overcrowded. Some households received government assistance and had checks enclosed in their family packets. Picture cards represented belongings; and in some instances, families had to pawn or sell items to pay bills.
Those individuals with jobs had to visit their employers every week to receive a paycheck. Finally, expenses had to be paid at the beginning of the month with delinquency becoming a reality after the third week, if not earlier. Community resources for transportation, food, banking, legal aid, housing, health care and utilities were also available for families.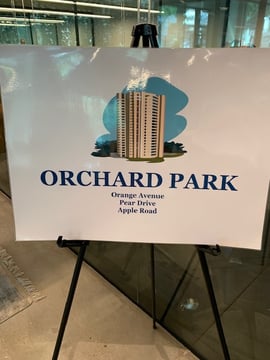 Yet, as in real life, vendors were impatient and resources scarce--all things that budding law students needed to experience.
"I participated and then facilitated a de-brief of a small group of students the next days. They gained some great insights. Glad we were able to do this as part of 1L orientation!" said Bob Probasco, senior lecturer and director of the low income tax clinic.
About the Texas Access to Justice Commission:
The Texas Access to Justice Commission, created by the Supreme Court of Texas in 2001, is charged with developing and implementing initiatives designed to expand access to, and enhance the quality of, justice in civil legal matters for low-income Texans. Specifically, the Commission aims to:
Identify and assess current and future needs for access to justice in civil matters by low-income Texans.
Create a framework for equitable access to justice by promoting policies, procedures, court rules, and legislation that reduce barriers to our judicial system.
Increase resources and funding for access to justice in civil matters.
Promote wise and efficient use of available resources and encourage the coordination or sharing of resources or funding.
Develop and implement other initiatives designed to expand civil access to justice, such as assisted pro se programs, strategic use of technology, and enhanced community education.
Monitor the effectiveness of the statewide system and services provided.