Current Texas A&M University School of Law students enrolled in the Immigrant Rights Clinic won an appeal to reopen the case of a client from Somalia who fears being tortured there by Al-Shabaab and the government as a Christianity convert. The case was reopened based on the condition changes in Somalia.
TAMU Law students, Miranda Leach, Ruth Correa and Caitlin Revanna, were enrolled in the clinic's courses last spring and prepared the motion to reopen the case. This fall, Clarissa Dauphin, Denise Rosales and Wesley Salazar prepared a habeas petition and complaint for the same client.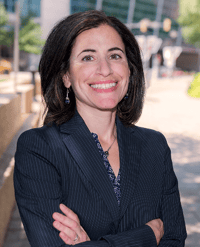 Texas A&M School of Law Professor Fatma Marouf, who is the director of the Immigrant Rights Clinic, says, "This client is one of the 60 or so Somalis who was physically abused by immigration guards at the West Texas Detention Facility in El Paso and is included in the report we published about those abuses last spring."
Marouf says she and the law clinic students were able to obtain an emergency stay of removal to stop the client's deportation the day before the flight departed.
"We will have a chance to litigate the case from scratch," says Marouf.
Marouf believes immigration and the international refugee crisis are among the most pressing human rights issues of our time. "We need lawyers who are creative problem-solvers and who can connect local concerns to global developments."
Marouf is an expert in immigration law, refugee law and international human rights law.