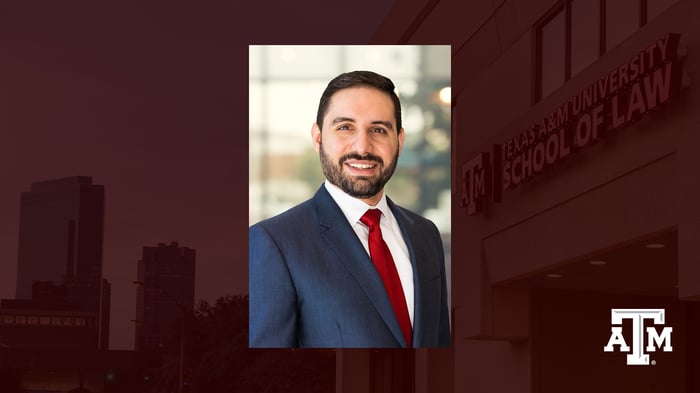 Hisham Masri '15 has been nominated to run for president-elect of the Texas Young Lawyers Association (TYLA). If elected, he would be the first TYLA President from Texas A&M School of Law (or Texas Wesleyan Law).
TYLA is a division of the State Bar of Texas (SBOT), an administrative agency within the judicial branch of the State of Texas. TYLA's regular membership includes all members of the State Bar of Texas, irrespective of age, licensed 12 years or less on June 1. Known as the "public service arm" of the SBOT, TYLA, and its members serve the governmental and administrative function of promoting public service by attorneys in their respective communities.
The other nominee is Cali Franks (Dallas), who is a programs attorney at Lawline. She received her degrees from the University of Texas and Saint Mary's School of Law. The TYLA Board of Directors unanimously approved both nominees.
Hisham earned his bachelor's in political science from Southern Methodist University and his J.D. from Texas A&M School of Law in 2015. While at the law school, he was the business editor of the Law Review and research assistant to Professor Michel Z. Green.
After graduating from law school, he worked for solo, small, and national firms. He currently serves as the North American employment counsel at Flowserve Corporation, where he contributes to the organization's success as a legal advisor in litigation, labor and employment law, and immigration.
Hisham is TYLA's current vice president and previously served as secretary, ABA-YLD District Representation, and Dallas director. He has received TYLA's Outstanding Director and Outstanding First-Year Director awards for his contributions. Hisham's favorite contributing TYLA projects so far are Texas Courts for Texas Veterans, diversity retention toolkit, and the Bar Leaders Guide for Local Affiliates.
Hisham continues passionately serving his community and the Texas bar. He is a Texas Bar Foundation fellow, an Associate in Higginbotham Inn of Court, and a volunteer judge for Plano Teen Court. He also actively participates in the Lawyers Promoting Diversity Committee of DAYL, from which he received the outstanding chair award.
Born and raised in North Texas, Hisham continues practicing law and living here today. He is married to Victoria Mourtada, who cares for their two young children, Celine and Jude. Hisham's preferred wellness activities include recreational running, spending time with family, and playing games with friends.
Voting in the State Bar elections starts Monday, April 3. Over 35,000 young lawyers throughout Texas are eligible to vote in the election. The winner of the election will be announced in May.
More information is available at Hisham's website.