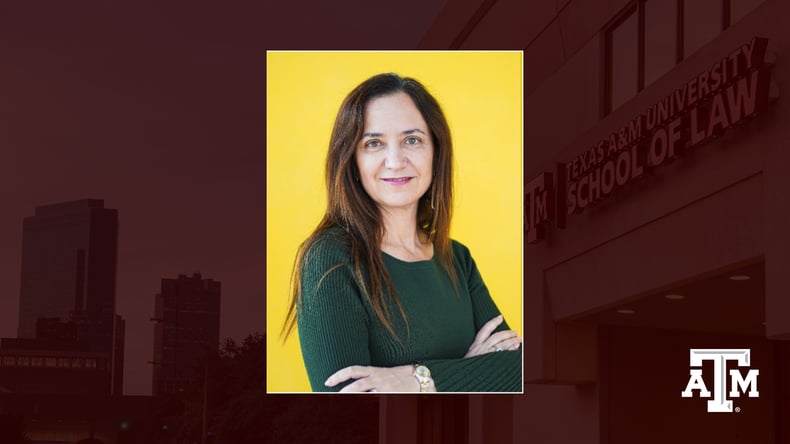 The Texas A&M University System Board of Regents has designated Professor Irene Calboli a Regents Professor. The announcement was made during their November 10 meeting.
Established in 1996, the Regents Professor Award is the highest honor that the Texas A&M University System bestows on a faculty member. The award recognizes exemplary performance in teaching, research, and service, and honors achievements that impact the institution and community — both statewide and internationally. The final selection of Regents Professors is made by Texas A&M Chancellor John Sharp and the Board of Regents.
"It is a big honor and is well deserved," said Tim Leach, chairman of the Texas A&M University System Board of Regents.
Professor Calboli is a distinguished teacher, world-class researcher, and visionary leader, whose service in the intellectual property field has had a transformational impact on students and researchers worldwide. Her work continues to contribute to the worldwide recognition of the law school's leadership role and impact. She joined the law school as a full-time tenured faculty member in 2015. Her research focuses on the interplay between IP and international trade, the protection of distinctive signs, and overlapping IP rights. She regularly lectures at universities across the globe and holds distinguished visiting and honorary positions at institutions in Europe, Asia, and the Americas.
Robert Ahdieh, Dean of the School of Law and Vice President for Professional Schools and Programs, praised Professor Calboli's passion for and dedication to IP law scholarship, mentorship, and the creation of professional opportunities for international colleagues.
"Dr. Calboli is an ideal candidate for the Regents Professorship, and I am delighted that the Texas A&M University System Board of Regents selected her for this important award," said Dean Ahdieh. "She embodies the best of Texas A&M with her distinguished record in scholarship, service, and teaching. Her contributions have played a critical role in establishing Texas A&M University and the law school as national and international leaders in the vital field of IP law."
Professor Huyen Pham, associate dean for faculty research and development, highlighted the global reach of Professor Calboli's work.
"Professor Caboli truly exemplifies the excellence that the Regents Professor award honors," Professor Pham said. "She is one of the best-known IP scholars in the world, and her work has had a profound impact on judicial decisions and policymaking around the globe, from the US to the EU and Asia. She brings a distinct interdisciplinary, global approach to her teaching, which her students love. We are truly fortunate to have Professor Calboli at the law school and the University."
See the Texas A&M System press release for the full list of this year's recipients.