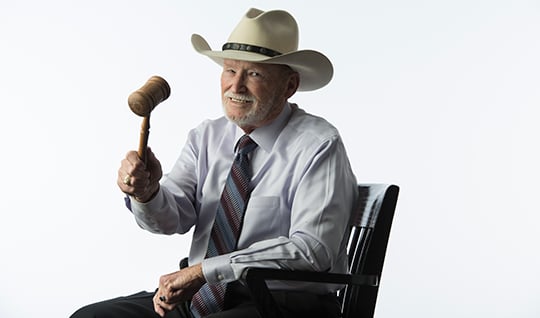 The
Texas A&M School of Law Alumni Board
has reached its goal of fully funding the
Judge Joe Spurlock II '60 Endowment Scholarship
. It will be awarded beginning in Fall 2023 to a full-time student in good standing pursuing a law degree at the law school.
In 2021, the alumni board voted unanimously to establish a $25,000 scholarship endowment to honor the late professor and legal legend Judge Joe Spurlock II. Later that year, the board hosted its inaugural Alumni Legacy Awards Reception, and all of the proceeds from the event went to the fund. With a little less than $7,000 left needed to fully fund the endowment, the group continued to fundraise for the scholarship.
Judge Joe was a founding faculty member of the law school when its long-term success was considered wishful thinking by many. The alumni board created this endowment in his name to honor his love for the law school and carry on his incredible legacy. All proceeds from the inaugural Alumni Legacy Awards Reception held in September went to the scholarship fund.
"Judge Joe gave so much to the law school, both as a founder and as a long-time beloved professor, said Dana Zachry '07 '11, former president of the alumni board at the time of the scholarship's creation. "The alumni board felt that we could best honor his legacy by endowing a scholarship that would benefit students who share his love of the law, his desire to serve and spread knowledge, and his commitment to the profession. We are grateful for the support of his family in our endeavor and to the law school and the Texas A&M Foundation for their assistance in bringing our idea to life."
Also check out: Lynne Nash '95, '16, Texas A&M Law Alumni Board president, and the rest of the alumni board share a special message with Judge Spurlock's family.
Scholarships will be awarded to students who demonstrate Judge Spurlock's commitment to promoting the rule of law through democracy and the passion for service to better the legal community both within and outside of the law school. Recipients will be selected based on academic achievements and the strength of their resumes, including extracurricular activities, volunteerism, and pro bono service.
Donations to the Judge Joe Spurlock II '60 Scholarship can be made to continue his legacy and help grow his endowment to provide scholarships to additional students.
In 2022, the alumni board established the Dean Emeritus Frank W. Elliott Endowed Scholarship to honor the late dean of the law school. The 2022 Alumni Legacy Awards Reception proceeds went to this scholarship. Currently, the fund is less than $8,000 away from being fully funded. Further donations can be made to the Dean Emeritus Frank W. Elliott's Scholarship.
If you have any questions about making a gift to the scholarship, contact Myke Holt or call 817.212.4061