Texas A&M University School of Law Professor Bill Henning, who is a Life Member of the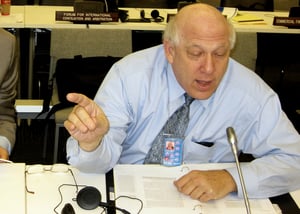 Uniform Law Commission (ULC), has been appointed to serve on the joint ULC/ALI Study Committee on the Uniform Commercial Code and Emerging Technologies. The committee's charge is to study the entire architecture of the UCC to determine whether amendments to the text or comments are necessary in light of emerging technologies (e.g., distributed ledger technology). The committee met in October, in Denver, and decided to divide the study into six subgroups. Professor Henning is co-chair of the subgroup examining issues related to Article 9's treatment of electronic chattel paper.
Professor Henning serves as Vice-Chair of the ULC's Committee on the UCC and is a member of the joint ULC/ALI Permanent Editorial Board for the UCC. He is attending the annual meeting of each group in December in Washington, DC.
Professor Henning has also been appointed to serve as a ULC Division Chair. The organization's work is divided into six divisions, and the role of the division chair is to participate in the work of each committee within a division, to provide support for the committee chair, and to report directly to the leadership of the ULC on the committee's progress. Among the committees assigned to Professor Henning are a drafting committee on the collection and use of personally identifiable data, a study committee on event data recorders, and a study committee on special bank deposits.