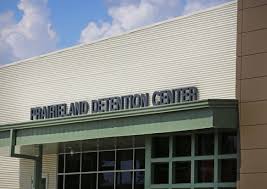 The Texas A&M Immigrant Rights Clinic filed a petition in federal court last Friday demanding that ICE immediately release eleven medically-vulnerable immigrants from the Prairieland Detention Center, where 45 detained individuals have tested positive for COVID-19. Professor Fatma Marouf, Adjunct Professor Sehla Ashai and students Teresa Reyes Flores, Marisela Gonzales, Mario Guerra, Maria Jose Rosales Lagos and Emily Malden, joined forces with RAICES and the civil rights firm Loevy & Loevy in bringing the case.
According to the lawsuit, ICE transported a plane of over 80 individuals, some of whom had tested positive for COVID-19, to Prairieland without taking safety precautions. These immigrants were flown to Texas from two jails in New York and Pennsylvania where there were already COVID-19 outbreaks.
"Our clients at Prairieland are terrified of getting sick and dying of COVID-19," said Marouf. "Many of them have lived in this country for decades and have family members who are U.S. citizens. They don't want to become an invisible statistic."
Detainees are unable to safely social distance, have been given only one disposable mask and are living in very close quarters with other cellmates.
"Despite repeated warnings from public health experts, ICE refuses to implement the most basic of steps to protect people detained at Prairieland," said Manoj Govindaiah, director of litigation at RAICES Texas.
Scott Rauscher of Loevy & Loevy noted, "ICE authorities are constitutionally obligated to take common sense measures to protect the health and lives of people imprisoned in their facilities."
Rauscher added, "Detention cannot and should not be a death sentence -- not for the detainees, not for the people who work in ICE facilities, and not for the people in surrounding communities."
Nine hundred sixty-five ICE detainees have tested positive for COVID-19 during the pandemic out of the 1804 detainees tested, according to the latest government statistics. As of May 9, ICE reported nearly 28,000 people in detention.
Copies of the filings can be found here.
About the parties involved:
RAICES Texas is a nonprofit agency that promotes justice by providing free and low-cost legal services to underserved immigrant children, families, and refugees. With legal services, social programs, bond assistance, and an advocacy team focused on changing the narrative around immigration in this country, RAICES is operating on the national frontlines of the fight for immigration rights. RAICES envisions a compassionate society where all people have the right to migrate and human rights are guaranteed.
The Texas A&M School of Law Immigrant Rights Clinic provides pro bono legal services to immigrants, including deportation defense and federal litigation.
Loevy & Loevy is one of the nation's largest civil rights law firms and has won more multi-million-dollar jury verdicts than any other civil rights law firm in the country.
Contacts:
Lucia Allain, RAICES Texas, media@raicestexas.org
Fatma Marouf, Professor of Law and Director of the Immigrant Rights Clinic at Texas A&M School of Law, fatma.marouf@law.tamu.edu, 310.431.6693 (cell)

Andy Thayer, Loevy & Loevy Attorneys at Law, 773.209.1187, andy@loevy.com