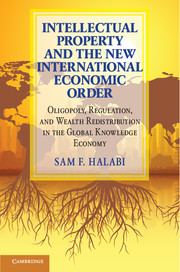 Texas A&M University School of Law Professor Peter Yu contributes an essay to the Yale Journal on Regulation online symposium titled, "Key Insights from Intellectual Property and the New International Economic Order." The Yale Journal on Regulation is one of the nation's top-ranked administrative and corporate law journals. This particular symposium critically examines Professor Sam Halabi's new book, "Intellectual Property and the New International Economic Order,"published by Cambridge University Press.
Other contributors include Professor Patricia Judd of Washburn University School of Law, Assistant Professor Peter Conti-Brown of Wharton University of Pennsylvania, Professor Katja Lindroos Weckström of the University of Eastern Finland, Professor Jeffrey Pojanowski of the University of Notre Dame School of Law, Professor Daniel Hemel of the University of Chicago School of Law,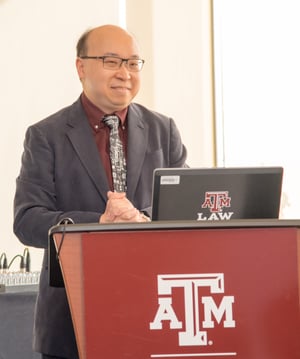 Associate Professor Christopher Walker of Ohio State University Moritz College of Law, Associate Professor Janewa Osei-Tutu of Florida International University School of Law, Dr. Henning Grosse Ruse-Khan of the University of Cambridge School of Law and Professor Susan Sell of the Australian National University. Author Sam Halabi attended the symposium and offered his response.
Yu is a preeminent expert in international intellectual property law. He directs the Center for Law and Intellectual Property at Texas A&M University School of Law and holds a joint appointment at the Department of Communication. He is the co-director of studies of the American branch of the International Law Association and has served as the general editor of The WIPO Journal, published by the World Intellectual Property Organization.
About Texas A&M School of Law
Texas A&M School of Law is an American Bar Association-accredited institution located in downtown Fort Worth. In 2013, the law school acquired Texas Wesleyan University School of Law and has increased faculty and students exponentially in its five-year existence. The law school ranks highly nationwide in dispute resolution and intellectual property and offers 11 clinics that introduce students to real-world applications of the law. For more information, visit law.tamu.edu.
About Texas A&M University
Texas A&M, established in 1876 as the first public university in Texas, is one of the nation's largest universities with more than 66,000 students and more than 440,000 living alumni residing in over 150 countries around the world. A tier-one university, Texas A&M holds the rare triple land-, sea- and space-grant designation. Research conducted at Texas A&M represented annual expenditures of more than $905.4 million in fiscal year 2017. Texas A&M's research creates new knowledge that provides basic, fundamental and applied contributions resulting, in many cases, in economic benefits to the state, nation and world.