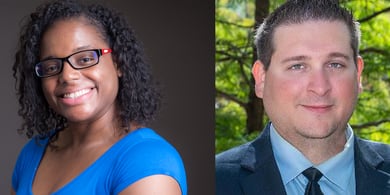 Texas A&M School of Law professors Malikah Hall and Aaron Retteen were featured in a "must-see" live program at the American Association of Law Libraries (AALL) Annual Meeting - How Persistent Identifiers Can Change the Impact Landscape for Legal Scholarship - where they discussed their experiences implementing persistent identifiers in legal scholarship and shared insights discussed in detail in their forthcoming paper Persistent Identifiers and the Next Generation of Legal Scholarship, available at https://doi.org/10.2139/ssrn.3168863.
This is the program description:
Demonstrating the impact of legal scholarship—through citation analysis, download counts, and other altmetrics—can be easier and more accurate if the academic legal community adopted persistent identifiers. Law libraries should serve as a focal point for the advocacy, education, and central organization needed to bring about the discipline-wide adoption of persistent identifiers, which will involve consulting with faculty authors and student journal editorial boards. Author identifiers (e.g., ORCID iDs) and scholarship identifiers (e.g., digital object identifiers) have the potential to unlock exciting possibilities for the metadata management, retrieval, and analysis of legal scholarship.
Takeaways:
Participants will be able to define persistent identifiers and understand how identifiers fit within the overall scholarly communications ecosystem.

Participants will be able to create workflows to implement persistent identifiers in various contexts to help improve metadata management and help change the impact landscape for legal scholarship.

Participants will be able to demonstrate to stakeholders and administrators the value and ROI of persistent identifiers in general, and why law libraries should play a central role in the process.