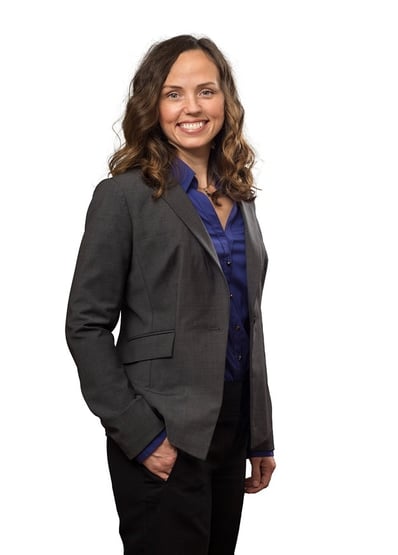 Jessica Foster
Texas A&M Law Graduation: May 2016
Current Workplace and primary practice areas:
Kelly, Durham & Pittard LLP, with a focus on civil appeals and litigation support.
Other Workplaces between graduation and present day:
The Law Firm of Caleb Moore, PLLC, primarily focused on foreclosure defense, real estate, consumer litigation, small business litigation matters.
Texas A&M University, as a research associate working on issues surrounding groundwater laws on the Texas-Mexico border.
Q: What do you like about the parts of your practice that pertain to natural resources?
First, the clients our firm represents are landowners fighting a groundwater permit in arid New Mexico. They have actively stuck with this fight for ten years now. Their dedication and diligence is inspiring, and it restores faith to see those who have the ability to take action do it on behalf of other communities fighting similar battles.
Second, areas where water law jurisprudence remains open to development (such as New Mexico), I am able to argue for fundamental interpretations and applications of law that could have lasting impacts on the water law and policy of that jurisdiction.
Third, the ability to understand that science, law, and policy must be considered together opens doors to helping solve problems using multidisciplinary approaches—an ability valuable to others.
Fourth, the work tends to be collaborative and creative. Because people often recognize the urgency of these natural resources issues, they are often more open to collaboration and creative work than I have experienced in other areas professionally. This collaboration and the integrated thinking natural resources law trains you to use is, to me, far likelier to result in creative, responsive solutions to these issues.
Q: Do you belong to any organizations or professional groups involved in natural resources related platforms or legal issues?
I am a member of the environmental/natural resources and energy sections of the Texas Bar Association and the Dallas and Tarrant County Bars. I am also part of an environmental working group that brings legal, political, and economic professionals together with experts in agriculture, energy, psychology, corporate accounting, and journalism to move society toward communities that are resilient in water, energy, and food resources in response to climate change.
Q: How do you think this gives insight into your legal practice?
Challenging yourself to roundtable with non-lawyers (or non-coworkers) about issues from a multidisciplinary perspective—and from competing perspectives—is key to avoiding insular thinking. That big picture thinking also helps me make policy arguments and even steer my advocacy.
Q: Were you involved in any natural resources groups or programs during your time at Texas A&M Law?
I traveled with students from Texas A&M's water management and hydrological science program to Guanajuato, Mexico, to work together on groundwater issues at the University of Guanajuato. I participated in natural-resource-related poster competitions at TAMU's Water Daze series and at the Property Journal's symposium on marijuana law. I also worked pro bono to help the Big Bend Conservation Alliance oppose the Trans-Pecos Pipeline in far West Texas.
Q: How do you think your involvement in those groups, programs, or with Professor-mentors affected or continues to affect your career path?
Invaluably. Professor Gabriel Eckstein has been my mentor in water law since teaching me in the subject and taking me on as his research assistant. With Professor Eckstein, I have been able to:
Co-author a paper and presentation on water laws related to oil and gas for the Rocky Mountain Mineral Law Foundation;
Help edit Professor Eckstein's The International Law of Transboundary Groundwater Resources, the first major publication on the subject;
Help edit international water publications for the United Nations and conduct research for United Nations' Food & Agriculture Organization's online database;
Work after graduation as a research associate for TAMU, which allowed me to conduct the first major survey of groundwater laws on the Texas-Mexico border; and
Present my research and evaluate its transboundary implications at the 2017 World Water Congress in Cancun, Mexico.
Focusing on these issues—not well understood by many—gave me marketable expertise within a year of graduation. This work has also afforded me the credibility to work more independently on water cases.
Professors Gina Warren and Jim Bradbury have also made concerted efforts to involve me in natural resources work, in and outside of the classroom. More than anything, these professors influenced me by seamlessly transitioning how they viewed me, from student, to colleague, to friend. This gives the profession a collaborative feel. In my experience, this is largely unique to our law school and not to be taken for granted.
Because of these professors' mentorship, I am taking an active role in the things I care about and engaging at a higher professional level than I expected previously.
Q: More generally, how do you think your experience at Texas A&M Law has affected your continued practice in natural resources?
Compared with other institutions, Texas A&M Law places greater value on agriculture, on natural resources, and on ensuring that science guides law and policy. In practice, science and engineering professionals are heavily involved in water cases. I think I am able to engage with them in a more effective way because of my Texas A&M Law background.
Q: What advice would you give to current and prospective law students?
Think big. Engage with the scientific community and learn to speak their language. Do not forget to imagine. Read books that challenge you to consider new philosophies and start conversations about them. Write out your ideas, on blogs or in papers. One paper I wrote for Professor Warren's class was an idea that is now receiving funding and may lead to new career opportunities in the future.
Take your professors, former employers, and others you respect out to lunch just to ask their thoughts on the world and pitch them your ideas. Volunteer on big projects you care about. For me, these have turned into jobs and helped develop a meaningful network of peers.
About the Program in Natural Resources Systems
Natural resources are an integral and undeniable component of modern societies globally. These resources are critical for energy, agriculture, manufacturing and economic development in general. Our natural environment is a highly complex and integrated system, and sound decision-making related to the sustainable management of natural resources and the environment requires a broad and interdisciplinary approach. Learn more about NRS.
About Texas A&M School of Law
Texas A&M School of Law is an American Bar Association-accredited institution located in downtown Fort Worth. In 2013, the law school acquired Texas Wesleyan University School of Law and has increased faculty and students exponentially in its five-year existence. The law school ranks highly nationwide in dispute resolution and intellectual property and offers 11 clinics that introduce students to real-world applications of the law. For more information, visit law.tamu.edu.
About Texas A&M University
Texas A&M, established in 1876 as the first public university in Texas, is one of the nation's largest universities with more than 66,000 students and more than 440,000 living alumni residing in over 150 countries around the world. A tier-one university, Texas A&M holds the rare triple land-, sea- and space-grant designation. Research conducted at Texas A&M represented annual expenditures of more than $905.4 million in fiscal year 2017. Texas A&M's research creates new knowledge that provides basic, fundamental and applied contributions resulting, in many cases, in economic benefits to the state, nation and world.