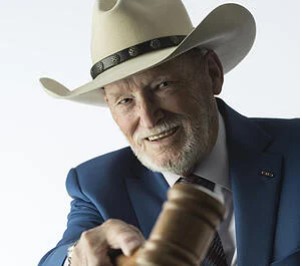 In 2021 the Texas A&M School of Law alumni board voted unanimously to establish a $25,000 scholarship endowment to honor the late professor and legal legend Judge Joe Spurlock II '60.
Judge Joe was a founding faculty member of the law school when its long-term success was considered wishful thinking by many. The alumni board created this endowment in his name to honor his love for the law school and carry on his incredible legacy. All proceeds from the inaugural Alumni Legacy Awards Reception held in September went to the scholarship fund.
"Judge Joe gave so much to the law school, both as a founder and as a long-time beloved professor, said Dana Zachry '07 '11, president of the alumni board at the time of the scholarship's creation. "The alumni board felt that we could best honor his legacy by endowing a scholarship that would benefit students who share his love of the law, his desire to serve and spread knowledge, and his commitment to the profession. We are grateful for the support of his family in our endeavor and to the law school and the Texas A&M Foundation for their assistance in bringing our idea to life."
Once the endowment is fully funded, it will be used to provide one or more scholarships to full-time students in good standing pursuing a law degree at Texas A&M University School of Law.
Scholarships will be awarded to students who demonstrate Judge Spurlock's commitment to promote the rule of law through democracy and the passion for service to better the legal community both within and outside of the law school. Recipients will be selected based on academic achievement and strength of their resume to include extracurricular activities, volunteerism, and pro bono service.
Donations: Judge Joe Spurlock II '60 Endowed Scholarship
Select School of Law under "Unit or College"

Select Judge Joe Spurlock II '60 Endowed Scholarship u

nder "

Department or Account"
If you have any questions about making a gift to the scholarship, contact Myke Holt at mholt@txamfoundation.com or call 817.212.4061
Thank you for your helping the alumni board honor Judge Joe's legacy.