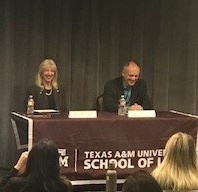 Texas A&M University School of Law understands the impact of climate change on the present and the future, housing a Natural Resources Systems (NRS) program for curriculum concentration. During a panel discussion, hosted by the law school, the NRS program, the Federalist Society and the Energy Law Society, Former U.S. Secretary of the Interior Gale Norton and Gabriel Eckstein, Texas A&M law professor and director of the NRS program, discussed litigation and if it is the route needed to change policy vs. lobbying executive and/or legislative branches of government.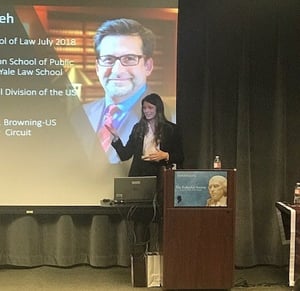 Eckstein argued that there is a place for litigation that may lead to new behavior, citing Thurgood Marshall's contributions to and advocacy of Brown v. Board of Education. While cases such as this one with social implications were perceived as "messy," there was resolution through judicial intervention. Norton felt that climate change litigation has become unwieldy and would be better addressed at the legislative and/or executive level.
Questions from the floor reflected frustrations that there is "no sense of urgency" from any sector. Climate control policies in Denmark and Germany were cited as ideal models for the U.S. Finally, opinions regarding carbon taxation were shared. Both Norton and Eckstein were skeptical that the tax would be for "purely" economic reasons and not genuine concern.
About the Program in Natural Resources Systems
Natural resources are an integral and undeniable component of modern societies globally. These resources are critical for energy, agriculture, manufacturing and economic development in general. Our natural environment is a highly complex and integrated system, and sound decision-making related to the sustainable management of natural resources and the environment requires a broad and interdisciplinary approach. Learn more about NRS.
About Texas A&M School of Law
Texas A&M School of Law is an American Bar Association-accredited institution located in downtown Fort Worth. In 2013, the law school acquired Texas Wesleyan University School of Law and has increased faculty and students exponentially in its five-year existence. The law school ranks highly nationwide in dispute resolution and intellectual property and offers 11 clinics that introduce students to real-world applications of the law. For more information, visit law.tamu.edu.
About Texas A&M University
Texas A&M, established in 1876 as the first public university in Texas, is one of the nation's largest universities with more than 66,000 students and more than 440,000 living alumni residing in over 150 countries around the world. A tier-one university, Texas A&M holds the rare triple land-, sea- and space-grant designation. Research conducted at Texas A&M represented annual expenditures of more than $905.4 million in fiscal year 2017. Texas A&M's research creates new knowledge that provides basic, fundamental and applied contributions resulting, in many cases, in economic benefits to the state, nation and world.