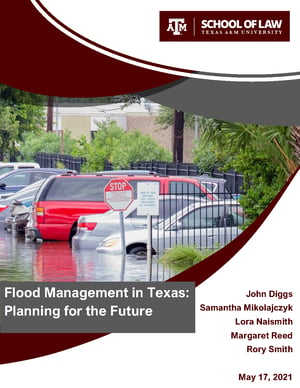 A new report on Flood Management in Texas: Planning for the Future from Texas A&M University School of Law examines current flood-related regulations in Texas and the United States, the Texas State Flood Plan, current flood mitigation strategies in the state, and the potential to implement green stormwater infrastructure.
The Report is the work product of students enrolled in the Natural Resources Systems Capstone Seminar at Texas A&M University School of Law under the supervision of Gabriel Eckstein, Professor of Law and Director of the Texas A&M University Energy, Environmental, and Natural Resource Systems Law Program.
The Report offers policy recommendations to clarify and help alleviate the current ambiguities and uncertainties between the Texas State Water Plan and State Flood Plan, and to simplify the implementation of green infrastructure.
For flood mitigation, the Report proposes that Texas implement policies for funding floodplain mapping and pre-release of water from dams. It suggests harmonizing the State Flood Plan and State Water Plan by having the Texas Water Development Board provide guidance on coordinating the two plans, and by liberalizing funding sources for projects having both water supply and flood mitigation components.
The Report proposes the creation of an advisory council consisting of members from both Flood Plan and Water Plan groups to create efficiencies between regional flood and water planning groups. It also recommends that cities in Texas audit and amend their existing codes and ordinances and implement financial incentive programs that encourage implementation of green infrastructure alongside traditional gray infrastructure.
Finally, the Report proposes legal mechanisms and policy measures that state and local governments can implement to encourage inclusive public and private stakeholder cooperation related to public infrastructure development.

The Report was authored by (from left) John Diggs LLM '21, Samantha Mikolajczyk JD '21, Lora Naismith JD '21, Margaret Reed JD '21, and Rory Smith JD '21.