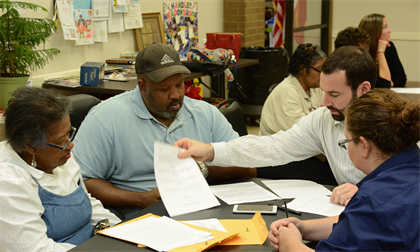 Texas A&M Legal Clinics announce the recipients of their 2020 and 2021 awards. The legal clinics give students the opportunity to apply their skills to work on behalf of actual clients in a variety of practice areas, and the awards provide the opportunity to showcase student achievement.
Congratulations to the following Texas A&M Law students:
Clinic Award for Selfless Service & Leadership
This award recognizes student activism and "going the extra mile" in community outreach and advocacy.
2020: Madison Clark, Family and Veterans Advocacy Clinic

2021: Annie Counts, Tax Dispute and Resolution Clinic

2021: Samantha Jackson, Criminal Defense Clinic
Clinic Award for Excellence in Professionalism and Leadership
Students receiving this award produce the highest quality of work. They also are fierce advocates that are extremely engaged in their classes.
2020: Heather Dyer

2020: Bethany Peacock
2021: Krista Wood, Tax Dispute and Resolution Clinic
2021: Robert David, Trademark and Copyright Clinic
CLEA Awards (Individual and Team Awards)
Award winners demonstrate excellence in field work, produce high quality work and are highly engaged. Individuals and teams may be recognized.
2020: Bethany Peacock
2021: Teresa Reyes-Flores and Mario Guerra III
Clinic award recipients are nominated by clinic faculty and staff members in May and announced at the law school's spring commencement following.
To learn more about how Texas A&M Legal Clinics impact the communities they serve while training compassionate lawyers, click here.