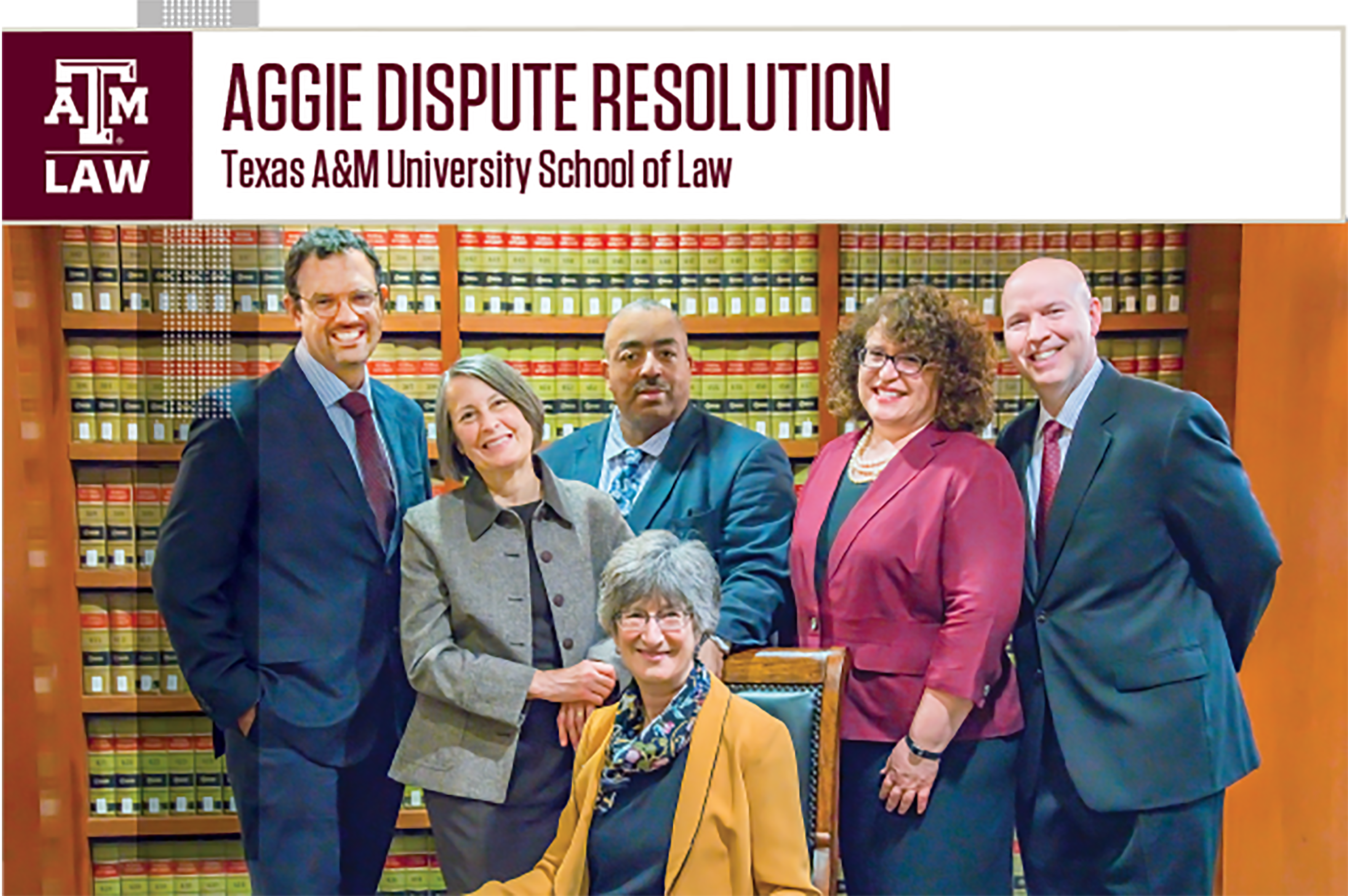 The purpose of Texas A&M University is "to develop leaders of character dedicated to serving the greater good." The School of Law's Aggie Dispute Resolution Program has taken this purpose to heart.
In 2018-2019, the Program achieved the following:
Leadership in the production of dispute resolution scholarship.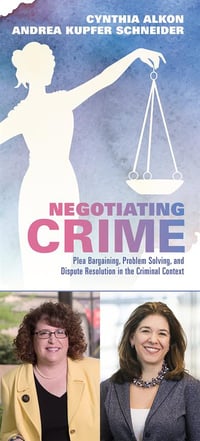 Professor Cynthia Alkon (with Professor Andrea Schneider) has authored a ground-breaking new book, NEGOTIATING CRIME: PLEA BARGAINING, PROBLEM SOLVING, AND DISPUTE RESOLUTION IN THE CRIMINAL CONTEXT (Carolina Academic Press, 2019), that focuses much-needed attention on alternative dispute resolution (ADR) in the criminal justice system. The book thoroughly covers plea bargaining--an area in which Professor Alkon is an acknowledged expert--as well as problem-solving and therapeutic justice courts, restorative justice, and juvenile justice.
Professors Nancy Welsh and Michael Z. Green are co-authors of the newest editions of two leading ADR textbooks. Professor Welsh is co-author of DISPUTE RESOLUTION AND LAWYERS, 6TH ED. (West Academic Press, 2019), and Professor Green is co-author of ADR IN THE WORKPLACE, 4TH ED. (West Academic Press, forthcoming 2020).
In their recent articles, book chapters and books, Texas A&M faculty have explored important intersections between dispute resolution and other areas of law, including:

Transparency in the criminal context (Professor Cynthia Alkon)
International investment law in oil and gas development (Professor Guillermo Garcia Sanchez)
Diversity, social movements and consent in the workplace (Professor Michael Z. Green)
Independence of the press (Professor Carol Pauli)
Corporate prosecutions and judicial review of negotiated agreements (Professor Peter Reilly)
Ethics and transparency in the civil context (Professor Nancy Welsh)
Leadership in and service to the dispute resolution field.
In September, 2019, Professor Green was elected to the National Academy of Arbitrators in recognition of his position as an important authority on labor-management relations based on his influential scholarship and other activities. Also, Professor Green was appointed to serve a two-year term as the neutral co-chair of the ADR Committee of the ABA Labor and Employment Law Section.
Professor Welsh chairs the ABA Section of Dispute Resolution's Advisory Committee on Dispute Resolution Research, encouraging empirical research and advising judicial organizations regarding data to be collected and reported regarding court-connected dispute resolution. She has previously served as Chair of the Section of Dispute Resolution. In August, 2019, she delivered the keynote address at the 27th annual conference of the Florida Dispute Resolution Center, attended by over 1,000 Florida mediators, neutrals and lawyers.
In January, 2019, Professor Reilly, Chair of the AALS Alternative Dispute Resolution Section, was presented with the Section of the Year Award at the 2019 AALS annual meeting. The ADR Section was recognized for mentorship, professional development programming and other activities that promote AALS core values. Professors Welsh and Alkon have both served as Chair of the Section in past years. Professor Reilly is also serving for a fifth year as chair of the Dispute Resolution Section's James Boskey Student Essay Competition on ADR.
Texas A&M faculty also contributed to public understanding of dispute resolution through various media appearances. Professor Garcia appeared in both U.S. and Mexican news media regarding the future of Mexico's energy reform and its impact in global markets; Professor Green was quoted in articles discussing Jay-Z's arbitration with the clothing company Iconix and American Airlines' dispute with its mechanics; Professor Reilly appeared regarding deferred prosecution agreements; Professor Alkon commented on factors affecting prosecutors' decisions in seeking particular sentences; and Professor Welsh was cited in the Just Court ADR Blog.
Leadership in convening discussions of cutting edge dispute resolution topics.
In November, 2018, Texas A&M Law held its annual dispute resolution symposium entitled Shining a Light on Dispute Resolution: Transparency, Metrics and Empirical Research. Presenters included:

Keynote Address – Thomas Stipanowich, William H. Webster Chair in Dispute Resolution & Dean of the Straus Institute for Dispute Resolution, Pepperdine University School of Law
Diversity/Inclusivity Among Neutrals - Pat Chew, Judge J. Quint Salmon & Anne Salmon Chaired Professor, University of Pittsburgh School of Law; Sarah Cole, John W. Bricker Professor of Law & Director, Program of Dispute Resolution, The Ohio State University Moritz College of Law; Benjamin G. Davis, Professor of Law, University of Toledo College of Law; and Maria R. Volpe, Professor & Director, Dispute Resolution Program, John Jay College of Criminal Justice, CUNY
Court-Connected Mediation and Online Dispute Resolution - Paula Hannaford-Agor, Director of the Center for Juries Studies, National Center for State Courts; J.J. Prescott, Professor of Law & Co-Director, Empirical Legal Studies Center, University of Michigan Law School; Erika Rickard, Senior Officer, Civil Justice Innovation Project, The Pew Charitable Trusts; Donna Shestowsky, Professor of Law & Director, Lawyering Skills Education Program, UC-Davis School of Law; and Donna Stienstra, Senior Researcher, Federal Judicial Center
Plea Bargaining - Pamela R. Metzger, Professor of Law & Director, Deason Criminal Justice Reform Center, SMU Dedman School of Law; Peter Reilly, Professor of Law, Texas A&M University School of Law; Andrea Schneider, Professor of Law and Director, ADR Program, Marquette University Law School; and Ron Wright, Needham Yancey Gulley Professor of Criminal Law, Wake Forest University School of Law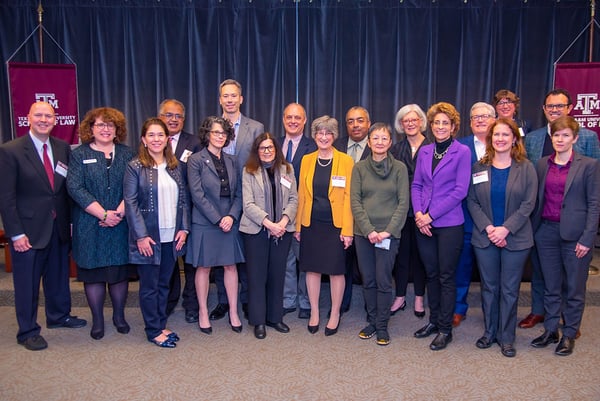 This was followed by a regional schmooze (works-in-progress program) that included examination of the Pew Charitable Trust's proposed evaluation of courts' online dispute resolution pilots. Articles from the symposium were published in the TEXAS A&M LAW REVIEW and the PEPPERDINE DISPUTE RESOLUTION LAW JOURNAL, including:
Key L. Levine, Ronald F. Wright, Nancy J. King, & Marc L. Miller, Sharkfests and Databases: Crowdsourcing Plea Bargains, 6 Texas A&M L. Rev. 653 (2019)
Maria R. Volpe, Measuring Diversity in the ADR Field: Some Observations and Challenges Regarding Transparency, Metrics and Empirical Research, 19 Disp. Resol. L. J. 201 (2019)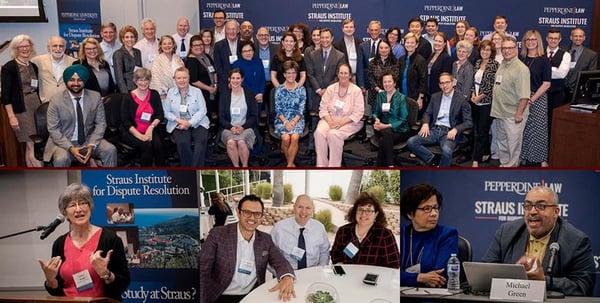 In June, 2019, leading dispute resolution scholars, educators and practitioners gathered in Malibu, California for a landmark conference, Appreciating Our Legacy, Engaging Our Future. It was sponsored by Texas A&M University School of Law's Aggie Dispute Resolution Program along with Pepperdine University's Straus Institute and the ABA Section of Dispute Resolution. Professor Welsh organized this important event with Professor Thomas Stipanowich, who had been in residence at Texas A&M in Fall 2018 as a Hagler Institute Faculty Fellow at the School of Law and the College of Architecture. Every member of the Texas A&M Dispute Resolution Program spoke in a plenary session or panel. Professors Welsh and Green were part of the second plenary on "Engaging the Future: Opportunities and Challenges." Professor Welsh also moderated a workshop on "Research and Scholarship with a Real World Focus – Methodologies and Terminology." Professor Alkon presented on a panel regarding "ADR and Access to Justice." Professor Reilly spoke on a panel regarding "Learning Styles and Pedagogy;" Professor Pauli presented on a panel regarding "Bridging the Social Divide;" and Professor Garcia Sanchez spoke on a panel regarding "Research and Scholarship Across Borders."
The Aggie Dispute Resolution Program also co-sponsored conferences at Texas A&M School of Law on NAFTA 2.0: The Puzzle of North America as a Region (Global Lawyering Program) and Modern Social Movements and their Workplace Impact (Workplace Law Program).
Professor Garcia Sanchez was one of the organizers of the NAFTA 2.0 conference, and it included a panel focused on reforming dispute resolution mechanisms for North America. Professor Green organized the Modern Social Movements conference, which included discussion of the role of arbitration. Professor Welsh served as a moderator in both conferences.
Texas A&M faculty organized and participated in the dispute resolution programs offered by the ABA Section of Dispute Resolution, Association of American Law Schools and the Southeastern Association of Law Schools at their annual meetings and by invitation in many other national and international gatherings, including:

Professor Welsh made plenary presentations at the Viadrina International Mediation "Mediation Moves…" conference in Frankfurt, Germany and the Law and Economics conference hosted by Brazilian FGV Rio-Law School at Columbia Law School. She also presented at faculty workshops at Marquette University Law School and the University of Florida, Levin College of Law.
Professor Green presented at Brandeis University's public discussion of the Harvard Negotiation Journal's special issue devoted to negotiation topics related to President Trump. He also presented on "Ethics in Labor Arbitration" in a regional program of the National Academy of Arbitrators and participated as a co-presenter at its international Fall Educational Conference in a plenary luncheon session discussing the three key decisions on arbitration from the United States Supreme Court's last term.
Professor Garcia Sanchez presented his research on international energy law and investment disputes at the University of Bergen in Norway, Max Planck Institute Luxembourg, University of Missouri School of Law, University of Colorado Law School, Association of International Petroleum Negotiators' Petroleum Scholar Workshop, and Texas Energy Council Symposium.
Professor Alkon presented at the Multi-Door Criminal Justice Symposium (Examining Hybrids of Non-Adversarial Justice) sponsored by Bar-Ilan University and the University of Haifa in Tel Aviv, Israel.

In March, 2020, Texas A&M Law's Aggie Dispute Resolution Program will hold its next annual symposium and regional schmooze, ADR's Place in Navigating a Polarized Era, with articles to be published in the TEXAS A&M LAW REVIEW and the OHIO STATE JOURNAL ON DISPUTE RESOLUTION.
Excellence and leadership in developing students' dispute resolution knowledge and skills.
Texas A&M Law offers a robust selection of dispute resolution courses, as well as a Dispute Resolution Concentration. Courses include:

ADR Survey
ADR in the Workplace
Advanced Criminal Procedure
Arbitration
International Commercial Arbitration
International Oil and Gas Dispute Resolution
Labor Law
Labor Negotiations Workshop
Mediation
Negotiation Theory and Practice Practicum
Perspectives on Dispute Resolution Practice in Texas
The Business Negotiator
Students also can earn credit toward the Concentration by participating in ADR competitions or global field courses and clinics that provide substantial involvement in negotiation, mediation or arbitration.
Texas A&M has introduced a new course, International Oil and Gas Dispute Resolution, taught by Professor Garcia Sanchez. Through lectures, discussions and simulations, students learn the basics of international petroleum transactions and how international oil companies draft contractual provisions, negotiate deals with governments, and adopt best practices in their operations. The course provides hands-on, practical negotiation experience through participation in a series of five livestreamed negotiation simulations with students from SMU's Dedman School of Law, in which Texas A&M students play the role of a lawyer representing a client on one side of an acquisition of oil and gas exploration rights in a foreign country.
Texas A&M Law's required ADR Survey course for all 1Ls continues to draw attention. It was featured in the What Great Law School Do Blog and in a webinar sponsored by the AALS Section of Clinical Education. The Aggie Dispute Resolution Program faculty team-teach this course, which is taught in a condensed five-day period. The faculty also continue to innovate with the course, and student comments include: "interesting subject matter, appreciated real-life application," "liked the subject matter and use of simulations to reinforce new material," "having multiple teachers was cool," and "[liked] the professors; [a]ll of them were knowledgeable and passionate."
For two years in a row, Texas A&M has placed in the top 10 in the American Bar Association's Competitions Championships for law school teams' achievements in the ABA's arbitration, negotiation, client counseling and national appellate advocacy competitions. Texas A&M's teams were national semifinalists at ABA Section of Dispute Resolution's Representation in Mediation Competition in April, 2019 and national semifinalists at the Client Counseling National Competition. These teams were coached by Kay Elliott, with input from Professors Green and Reilly.
In Fall 2018, students completed Global Lawyering Dispute Resolution field studies in Israel (Water, Energy and Dispute Resolution) and Scotland (Natural Resource Management and Dispute Resolution), led by Professors Welsh and Garcia Sanchez.
In collaboration with Maastricht University in the Netherlands, Professor Garcia Sanchez now provides his Arbitration students with the opportunity to conduct live online negotiation and arbitration exercises with Dutch students.
Texas A&M Law also continues to offer the Negotiation and Dispute Resolution for Business course for Masters of Jurisprudence students in its San Antonio program.
Texas A&M is introducing a Dispute Resolution survey course as a core component of its hybrid Masters of Jurisprudence program, as well as an elective online Business Negotiation course.
Leadership in educating public and nonprofit leaders regarding dispute resolution.
Professor Garcia Sanchez presented "Forced Re-negotiation and Litigation of Energy Contracts" to the Mexican National Hydrocarbons Commission, an autonomous, government agency in charge of regulating, overseeing and evaluating all hydrocarbons exploration and production activities in Mexico.
Professor Reilly conducted negotiation training for the Georgetown University Center for Public and Non-Profit Leadership and presented on negotiation for the non-profit New York State Industries for the Disabled.
Professor Pauli led workshops on negotiation at the Poynter Leadership Academy for Women in Digital Media, with attendees from USA Today, Politico, PBS, HuffPost, Newsday, Vox, NPR, New York Times and Washington Post.
Professor Welsh, with assistance from law students enrolled in Texas A&M's Community Development and Entrepreneurship Clinics, conducted conflict resolution skills training for case managers at the Presbyterian Night Shelter in Fort Worth. In addition, on behalf of the

ABA Section of Dispute Resolution's Advisory Committee on Dispute Resolution Research, Professor Welsh submitted recommendations to the National Center for State Courts on data elements to be collected by courts. This is part of the NCSC's initiative to encourage national data standards for state courts.