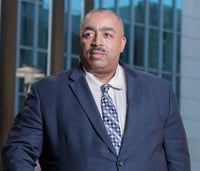 Michael Z. Green, professor at Texas A&M University School of Law, will join the
Labor Law Group
this year. The Labor Law Group originated in 1946 to improve the instructional materials and books for law students on labor law. Led by the efforts of Professor Willard Wirtz, academics and legal practitioners published their first book in 1953 about the issue.
"I'm incredibly humbled by this invitation because the Labor Law Group is quite prestigious to all who specialize in labor and employment law," says Green.
"The textbook being created by my colleagues and I will be used to help train law students and further the organization's mission," Green says.
Professor
Michael Z. Green
is a scholar in the field of labor and employment arbitration. Most recently, he was
recognized
in a
Dallas Observer
story about music artist Jay-Z and his challenge to find African American arbitrators.
Read more
.