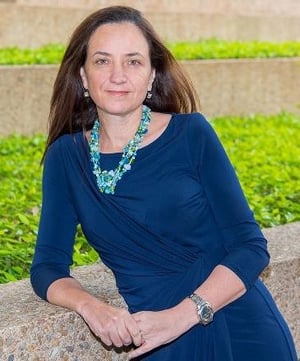 Texas A&M University School of Law professors are chosen for positions of prominence at conferences and workshops internationally. Professor Irene Calboli is no exception.
Calboli was one of only two law professors who taught at a PhD workshop held in Berlin, Germany. She worked alongside the esteemed Geertrui Van Overwalle, professor of IP law at the K.U.Leuven, a research university in Belgium. Overwalle is a professor of patent law and new technologies at the University of Tilburg

in the Netherlands.

The PhD workshop was co-organized with the United States Patent and Trademark Office.

Calboli has been a member of the Executive Board of European Policy for Intellectual Property (EPIP) since 2014. EPIP is an international, independent, non-profit association of researchers. Each year, EPIP hosts an annual conference connecting scholars, doctoral students and those in the field of economics, management

and law with a focus on intellectual property.

Calboli worked

on EPIP's Organizing Committee

for the 2017 EPIP Conference in Bordeaux, and

she chaired one of the plenary panels. She also worked on the

2018

EPIP C

onference

in Berlin and chaired a panel on the highly-debated issue of the protection of non-traditional trademarks

.

Professor Calboli is an expert in i

ntellectual property law and international intellectual property. She is also adept in the areas of i

nternational trade and economic law, f

ood and agriculture law, E

uropean Union law and c

omparative law.
About Texas A&M School of Law
Texas A&M School of Law is an American Bar Association-accredited institution located in downtown Fort Worth. In 2013, the law school acquired Texas Wesleyan University School of Law and has increased faculty and students exponentially in its five-year existence. The law school ranks highly nationwide in dispute resolution and intellectual property and offers 11 clinics that introduce students to real-world applications of the law. For more information, visit law.tamu.edu.
About Texas A&M University
Texas A&M, established in 1876 as the first public university in Texas, is one of the nation's largest universities with more than 66,000 students and more than 440,000 living alumni residing in over 150 countries around the world. A tier-one university, Texas A&M holds the rare triple land-, sea- and space-grant designation. Research conducted at Texas A&M represented annual expenditures of more than $905.4 million in fiscal year 2017. Texas A&M's research creates new knowledge that provides basic, fundamental and applied contributions resulting, in many cases, in economic benefits to the state, nation and world.