TAMU Law Professor Guillermo Garcia-Sanchez presented his research on international energy dispute resolution at the Mexican National Hydrocarbons Commission in late May.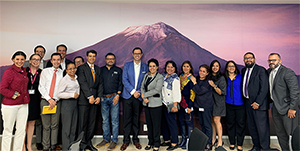 The Commission is an autonomous, government agency in charge of regulating, overseeing and evaluating all hydrocarbons exploration and production activities in Mexico. The lecture was attended by the commission president, Dr. Alma America Porras, and Commissioner Sergio Pimentel, along with other thirty officers of the Commission.
The visit serves as a basis to establish further academic collaboration between Texas A&M University School of Law and the National Hydrocarbons Commission.