The Texas A&M University School of Law will give students and the public the opportunity to witness oral arguments in person when it hosts the Supreme Court of Texas Thursday, October 10.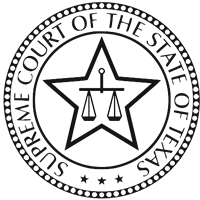 The court will hear two cases beginning at 9 a.m. Thursday, Oct. 10. Building doors will open at 7:45 a.m. for security screening at the law school's Commerce Street entrance. The public is asked to arrive no later than 8:20 a.m. to allow for passage through security before Dean Robert Ahdieh's welcome remarks at 8:45 a.m.
The first case involves a Texas attorney who was sanctioned for the use of an alleged "push poll" to community members in Lubbock to test trial themes and arguments related to a products liability/wrongful death lawsuit. Then, the court will hear oral arguments in the second case, which is related to a dispute between ownership factions over decision-making authority for a limited liability company.
Each of the cases is expected to last about 40 minutes, with a 10-minute recess between arguments. After the cases are argued, there will be a question and answer period from 11-11:30 a.m. The oral arguments are open to the public, but RSVP is required and seating is limited.

"As a law school, we aim to serve as a meeting place for the Fort Worth community to gather together and engage the most challenging issues of the day – from healthcare and immigration to energy and innovation," Texas A&M Law School Dean Robert B. Ahdieh says. "Hosting the Texas Supreme Court and bringing together the legal and business communities to participate in that visit offers a perfect opportunity for us."
Only a small number of attendees will be seated in the courtroom due to capacity limitations. Overflow seating will be available in classrooms. The oral arguments will be webcast through a partnership with the State Bar of Texas.
No cell phone use will be allowed while the court is in session, and attendees should also dress appropriately for court. No backpacks, briefcases or large bags will be allowed, and hats are not to be worn in the courtroom. Additional security measures will also be in place, and the licensed carry of concealed handguns will be temporarily prohibited at the School of Law during the court's visit from 7 a.m. to 3 p.m.