Texas A&M University School of Law students, faculty and staff traveled to the Rio Grande Valley in February to develop a better understanding of the border region, one of the fastest growing regions in Texas, according to Professor and Associate Dean for Experiential Education
Luz Herrera
. Herrera leads the law school's clinical legal education efforts and works to expose students to real-world application.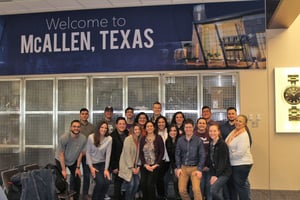 Law students conducted a pro bono workshop at
LUPE
, a community organization, on Transfer on Death Deeds and Power of Attorneys.
In concert with College Station undergraduate and graduate students from the history and civil engineering departments, TAMU Law students addressed disaster preparedness, housing, community development, border-crossing infrastructure, transportation and trade. Following the trip, all students will work together to develop a brochure, podcast, video and research report chronicling their experiences. A university grant to support multidisciplinary collaboration between Texas A&M University departments and schools made the trip a reality.
To view the photo album, click
here
.