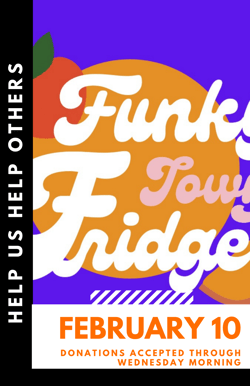 "I could think of no better way than for us to kick off Black History Month than through servicing the communities that we will soon represent. With that being said we will be filling the Funky Town Fridges," says Arielle Williams, Black Law Students Association (BLSA) president and third-year law student.
With Dean Robert B. Ahdieh in tow, Texas A&M School of Law's BLSA will join organizations such as the Fort Worth or Beta Mu Omega Chapter of Alpha Kappa Alpha Sorority to impact lives. The organization will deliver food to three fridges in February.
According to Williams, Funky Town Fridge is a community fridge project that aims to combat hunger, empower communities, reduce food waste and educate the city of Fort Worth. Organizers place refrigerators and pantries in public spaces accessible to the community 24 hours a day and stock them with nutritious food that would otherwise go to waste. In the spirit of mutual aid, all members of the community are invited to contribute food to the fridges and take what they need.
Click here to view the photo album.
For more information, please contact Arielle Williams at awilliams@law.tamu.edu.