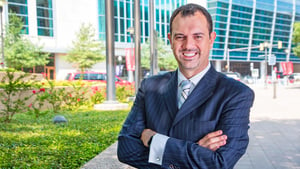 Texas A&M University School of Law Associate Professor Dr. Guillermo J. Garcia Sanchez expands Aggie Law's global reach in international oil and gas research, dispute resolution, arbitration and natural resources during a June 2019 research trip in Europe. Through his efforts, Texas A&M Law students and faculty have new opportunities to collaborate with leading European academic institutions.
Collaboration with Maastricht University to expand Texas A&M's Dispute Resolution and Natural Resources Programs:
Professor Garcia Sanchez met with Professors Bas van Zelst and Mark Kawakami and the Dean of the Faculty of Law, Jan Smits, at Maastricht University to build different areas of collaboration, including:

Live online negotiation and arbitration exercises between Texas A&M law students in Garcia's Arbitration class and students in Maastricht's Dispute Resolution class

Organizing an upcoming field trip to Maastricht to study the policies and litigation regarding communities affected by the development of gas fields in the northern part of the Netherlands
Lecture at the University of Bergen on International Oil and Gas Research:
On June 3, Professor Garcia Sanchez gave a lecture to the faculty and doctoral students at the University of Bergen, Norway, on his forthcoming article in the Tulane Law Review on the development of international investment law in transboundary oil and gas fields and the impact of Chinese investments in those areas. Other presenters at the international research seminar hosted by Dr. Ignacio Herrera Anchustegui, professor at the University of Bergen and member of the Bergen Center for Competition Law & Economics, included Dr. Madeline Taylor, professor at the University of Sydney.
Max Planck Institute Book Workshop Participant:
Professor Garcia Sanchez was invited to participate in the publication of a groundbreaking book on investment arbitration that will be published in spring of 2020, titled "International Investment Law: An Analysis of the Major Decisions." He participated in the initial book preparation workshop at the Max Planck Institute Luxembourg for International, European and Regulatory Procedural Law on June 6-7. Other participants in the book workshop include former Judge Bruno Sima from the International Court of Justice; Professor Hélène Ruiz Fabri, Director of the Max Planck Institute Luxembourg; Professor Diane Desierto,

University of Notre Dame

; and Professor Andrea Bjorklund, McGill University, among others.