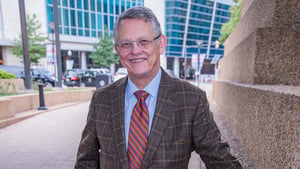 TAMU Law's senior lecturer and director of the low income tax clinic, Bob Probasco, is the principal drafter for comments submitted to the U.S. Tax Court by the Tax Section of the State Bar. He and current law clinic students are advocating for change to the Tax Court's Rules of Practice and Procedure, to provide for entries of limited appearance by pro bono volunteers. Probasco says this change would allow clinics to provide even more help to taxpayers.
The ABA (American Bar Association) Section of Taxation: Pro Bono and Tax Clinics Committee submitted similar comments in October. The State Bar Tax Section agrees with the TAMU Law clinic's goal but, wrote separately, to suggest an alternative process that might be more effective. Probasco says the Court has already begun looking at the issue and hopefully will benefit from the law clinic's input.
In addition to helping the community by representing taxpayers who have disputes with the IRS, Probasco is an active member of the tax practitioner community. He serves in the leadership of the State Bar Tax Section, is a frequent "guest blogger" on the Procedurally Taxing blog, which is run by Villanova and Harvard, and he presents at various conferences.
In November, he served as chairman of the planning committee for the 66th Annual Taxation Conference and helped organize the event which was held in Austin.
This month, Probasco was a panelist for a presentation on "Demystifying IRS Transcripts,"at a conference in Washington, DC. The conference was organized by the Taxpayer Advocate Service of the IRS for all low-income, taxpayer clinics (LITC) that receive funding from the IRS.
Check out Probasco's blogs:
http://procedurallytaxing.com/another-jurisdictional-issue-in-pfizer/ (July 16th)
http://procedurallytaxing.com/paresky-a-mirror-image-of-pfizer/ (August 24th)
http://procedurallytaxing.com/the-eitc-ban-its-worse-than-you-realized/ (December 4th)
More about Probasco.