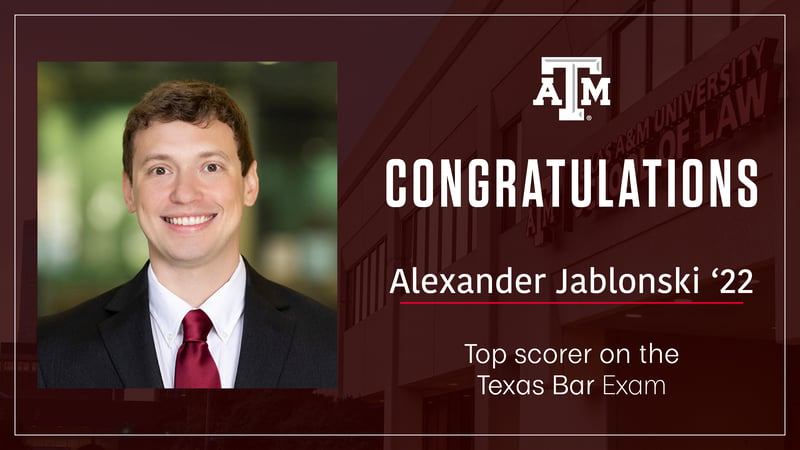 Alexander Jablonski '22 was the top scorer on the July Texas State Bar Exam. Jablonski works for Munck Wilson Mandala, LLP in Dallas, specializing in litigation. Jablonski said he was shocked to learn the news of his placement.

"It was definitely a surprise. I heard the news from Justice Brett Busby of the Supreme Court of Texas, which was a cool experience," said Jablonski. "No one can really expect to be the highest scorer because so many people are taking the test."
Jablonski's advice to anyone planning to take the bar exam is simple: "treat the bar exam seriously. It is a long test that involves a vast amount of material."
This is the second time in three years a Texas A&M Law graduate has gotten the highest score on the Texas bar exam. Jenna Johnson earned the distinction in 2020 when the normal July exam was postponed to September due to the pandemic.
Professor John Murphy, who serves as director of academic support & bar passage, attributes the results to a holistic approach rather than any particular test prep methods or strategies.
"Texas A&M Law does not 'teach to the bar exam.' Our graduates' recent success — including the highest scores on the September 2020 and July 2022 exams — reflects our faculty's deep commitment to excellence in teaching and learning. Our graduates aren't just ready to excel on the bar exam; they're ready to excel in real-world law practice, too."
If your firm would like to post to our job board or participate in one of our on-campus interview sessions or résumé collections, please contact the Texas A&M Law Office of Career Services.