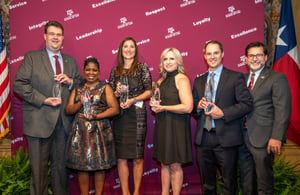 Texas A&M School of Law in downtown Fort Worth celebrates alumni at its first Alumni Legacy Awards reception Saturday, September 11 from 6-8 p.m. at the Fort Worth Club. Recipients are graduates who have made noteworthy contributions to the legal field and the community. Among them is Mayor Mattie Parker, publicized as the youngest mayor of a top-25 U.S. city by KERA News.
Coordinated by the Texas A&M Law Alumni Board, the awards program is designed to honor law school graduates annually with an awards process, culminating with a celebratory event. Board president and partner at Katten Benson Zachry, LLP Dana Zachry has spent her tenure determined to keep momentum high in uncertain times.
"The Alumni Board of Directors has been able to accomplish more than I would have expected in the year of COVID," she says. "We have succeeded in bringing the alumni community together in a big way while benefitting our community."
Since its inception, the law school has been known by three different names, most recently Texas Wesleyan University School of Law before Texas A&M University acquired it in 2013. According to Dean Robert B. Ahdieh, all graduates are welcome no matter the name on the door.
Zachry adds, "We are honoring the esteemed graduates of the law school from any era."
The 2021 Texas A&M School of Law Legacy Awards recipients are the following:
Judge Joe Spurlock II '60 Alumnus/Alumna of the Year Award
Nelda Cacciotti '01
Judicial Staff Counsel and Mental Health Magistrate, Tarrant County Criminal Courts

Rising Star Award
Christopher A. Brown '14
Attorney, Cantey Hanger

Private Practice Achievement Award
Caroline Harrison '04
Founding Partner, Pham Harrison LLP

Public/Non-Profit Sector Achievement Award
The Honorable Matthew Wright '08
Managing Partner and Attorney, Diaz & Wright, PLLC
Presiding Judge for the Rosebud Court of Record and the City of Lott Municipal Court

Community Impact Award
Nikki Chriesman-Green '09
Senior Counsel, Foster & Foster

Dean's Advocate Award
Mattie Parker '12
Mayor, City of Fort Worth
Dean Ahdieh supported the revitalization of the Texas A&M Law Alumni Board when he assumed his position in 2018 and has been an active participant since, attending board meetings and communicating regularly with board leadership.
"I'm excited for our alumni community to come together to recognize this stellar group of graduates—and grateful to the Alumni Board for bringing the program together," Ahdieh says. "Supporting our students, our newest graduates and one another is important."
Legacy Awards chairperson Lynne Nash, an attorney at Stanton LLP in Dallas, stresses that award proceeds will benefit legal legend and former Texas A&M faculty member Judge Joe Spurlock's endowed scholarship.
"He was my teacher—but, he was also my friend. It's his legacy that drives my passion to raise funds to support our amazing students at Texas A&M University School of Law," she says.
Nash credits her committee members Tave Doty of Whitaker Chalk Swindle and Schwartz PLLC, Collin County Assistant District Attorney Sarah Cary and Dana Zachry with showing "fierce commitment" building the awards program to celebrate alumni accomplishments this year and years to come. Tickets are still available for purchase up until the event. Scan the QR code below for more information.
"We are quite proud of the heritage of our school and look to build upon it," she says. "Our law school has always been a place which produces thoughtful, insightful and caring attorneys."
Established in 1989 at the Dallas/Fort Worth School of Law, the Texas A&M Law Alumni Board's mission is strengthen the law school's network though:
Providing opportunities for student internships

Increasing employment opportunities for graduates

Creating networking and growth opportunities for alumni

Supporting the law school's events and programs

Serving the community
Graduates of the law school are encouraged to stay connected by serving on one of the Board's numerous committees or applying to become a member of the board of directors at the next nomination cycle.