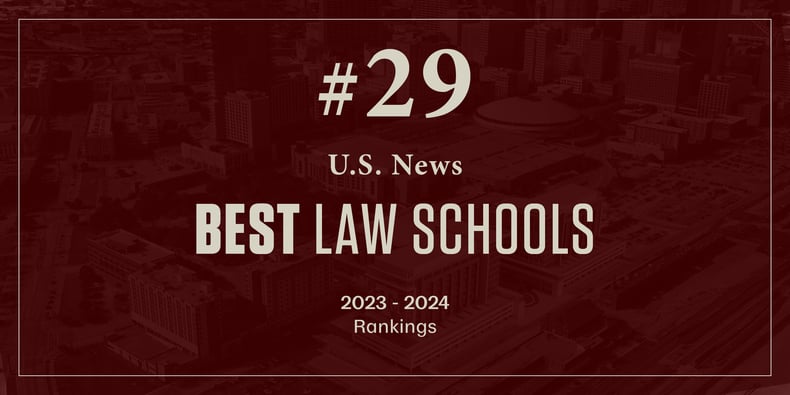 In an unprecedented showing, Texas A&M University School of Law now ranks 29th nationally among law schools, according to U.S. News & World Report's 2023-2024 ranking of Best Graduate Schools, released today. The newest rankings build upon Texas A&M Law's already meteoric rise – one of the fastest and furthest increases in U.S. News law school rankings history.
With its rise from 46th in the nation last year, Texas A&M Law saw the biggest increase among schools ranked among the top 50 in 2022. Among Texas schools, the law school ranks second only behind the University of Texas, having closed that gap significantly since last year, to only 13 spots.
The law school also placed top 10 nationally in two specialty rankings. The Dispute Resolution program placed 7th and the Intellectual Property program placed 9th.
The law school's success and growth over the last decade – since becoming part of Texas A&M University – can be traced to the ambitious vision of Chancellor John Sharp and the leadership of the Texas A&M University System.
"The first thing I did as Chancellor was to acquire this law school. At the time it was unranked and has now risen in the rankings faster than any law school in history," said John Sharp, Chancellor of the Texas A&M University System. "We won't stop until it is ranked in the top 10 in America. Congratulations to Dean Ahdieh, his faculty and staff, and the students."
Robert B. Ahdieh, Vice President for Professional Schools & Programs, Dean of the law school, and Anthony G. Buzbee Endowed Dean's Chair, is both reflective and proud of the school's achievements.
"Recent critics of rankings aren't wrong to raise questions about how much they reveal – at the narrowest level. The broad trajectory of progress in Texas A&M Law's ranking in recent years, however, reflects real progress," Dean Ahdieh said. "Today's ranking announcement demonstrates the benefits of a concerted focus on the core elements of excellence in legal education: the recruitment of world-class students and faculty, investment in a high-quality educational program, and a single-minded commitment to student success on the bar exam and in the employment market."
Since its acquisition from Texas Wesleyan University a decade ago, Texas A&M Law has made significant leaps in the annual rankings – from unranked to the top 30. This growth has been driven by numerous factors, including university leadership and funding, the recruitment of high-caliber students and world-class faculty, research excellence, the provision of a high-quality and innovative program of education, and a systematic focus on ensuring student success on the bar exam and in a competitive employment market.
"With a faculty and staff singularly committed to our mission of advancing human knowledge — both through scholarship and training of the next generation of lawyers and leaders — the rankings were bound to follow," Dean Ahdieh said.
The law school's progress over the years has had significant local and regional impact, including in bolstering Fort Worth's place as a legal and business anchor in North Texas.
"Fort Worth could not be more proud of what our law school has accomplished the last few years," said Fort Worth Mayor Mattie Parker. "In attracting world-class students, staff, and faculty to the community, providing pro bono legal services to veterans, entrepreneurs, families, and others in need, and anchoring Texas A&M-Fort Worth's new research and innovation campus, they have become a true pillar of our community. I am excited about their success as a proud graduate, but even more so as a resident and mayor."
Tarrant County Administrator G.K. Maenius, added: "I'm extremely proud of our law school's amazing rise in the US News rankings. They are the pillar upon which Texas A&M is building something truly great in our community."
With an eye to the importance of student success, Texas A&M Law is recruiting and training top students from across the globe, while also securing its graduates positions at the nation's most competitive law firms, clerkships with federal and state judges, in government agencies at all levels, and with public interest organizations.
Brian Newby, managing partner at Cantey Hanger LLP., spoke about his firm's experience in hiring Texas A&M Law graduates: "The law school has been an energetic partner in bringing the best and brightest to Fort Worth and graduating them as lawyers for the betterment of our community, including many at our law firm," said Newby, who also serves as chairman of Visit Fort Worth. "Texas A&M University has been a major economic and academic catalyst for Fort Worth and, in a very short time, is bringing the well-earned, world-class recognition our city needs to flourish."
Recently released data from the American Bar Association reflect impressive placement results for the class of 2022. With an employment rate of 98.3 percent, the class had the highest placement in "gold standard" jobs (i.e., those that are full-time, long-term, and either require bar passage or for which the J.D. is an advantage) of any law school in the nation.
Other Fort Worth legal professionals likewise recognize the law school's place in helping to shape the future of Fort Worth.
"The momentum at Texas A&M School of Law is remarkable," said Dee J. Kelly, Jr., partner at Kelly Hart & Hallman LLP. "We are lucky to have leaders like Chancellor Sharp and Dean Ahdieh who are making such a strong commitment to our city."
With plans underway to build a new Texas A&M campus in Fort Worth, the law school will only see new opportunities to serve the state and nation in the years ahead.
"As we prepare to break ground on Texas A&M-Fort Worth — with the law school as its academic anchor — the new rankings offer a further reason to celebrate. Looking ahead to our next ten years as Texas A&M Law, the sky is indeed the limit," Dean Ahdieh said.