TaxProf Blog recently posted a series that highlights the top 50 schools in five categories of the 2023 edition of Princeton Review's Best Law Schools.
Texas A&M Law ranks first or second in Texas and lands in the top tiers nationally across all categories.
Category

(See definitions below)

Score*

National

Rank

Texas

Rank

96

16

1

97

16

1 (tied)

95

13

1

92

27

2 (tied)

94

24

2

96.5

16

1

94.8

19

2

*Scale for all scores: 60-99; ** Calculated by TaxProf Blog
Texas A&M Law also made significant gains over last year's rankings in several categories, now ranking in the top 20 in three of the five categories and moving into the top 30 in two other categories.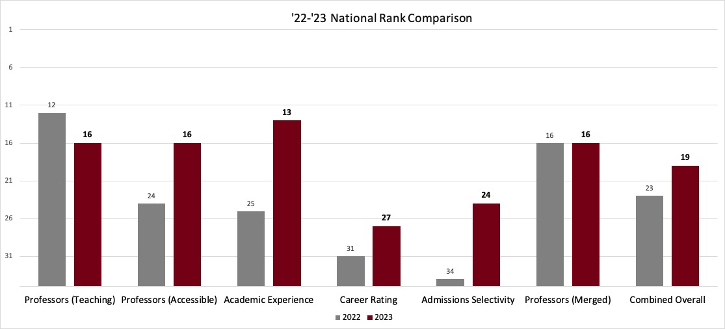 The ratings are based in large part on surveys of 15,000 students and administrators at 168 law schools.
Paul Caron, dean at Pepperdine's Caruso School of Law who publishes the blog, also calculated two additional lists using the same data to examine the ratings when individual categories are merged to create an average score.
When averaging the two categories rating faculty (Teaching and Accessibility), Texas A&M Law ranks 16th nationally and first in Texas.
When all five categories are weighted equally to create an overall ranking, Texas A&M Law ranks 19th nationally and second in Texas.
The "Students Say" section of Texas A&M Law's profile includes the following highlights:


"[Texas A&M Law's] faculty and staff...have established a professional environment focused on student success in the real world."
"A&M's emphasis on soft skills gives its students a unique edge in the workforce."
"Texas A&M manages to attract absolutely incredible instructors [who] are at the top of their field and always seem to [have] a smile on their face."
"I have not met a single staff member who did not genuinely seem to want the students to do well."
"I have never been made to feel that a faculty or staff member was too busy to answer my question or connect me with a colleague that practices in my areas of interest."
"If you have a question about something or want to see a change in how the school is being operated, there is always an avenue where [you] can be heard."
"The library does a great job at having resources available for students and they are very responsive with getting books via inter-library loan."
Category Definitions:
Professors (Teaching):
This rating is based on how students rate the quality of teaching at their law school.
Professors (Accessible):
This rating is based on how law students rate the accessibility of law faculty members at their school.
Academic Experience:
This rating measures the quality of the school's learning environment on a scale of 60 to 99. Factors taken into consideration include the Admissions Selectivity Rating, as well as how students rate each of the following: the quality of teaching and the accessibility of their professors, the research resources at their school, the range of available courses, the balance of curricular emphasis on legal theory and practical lawyering, the tolerance for diverse opinions in the classroom, and the degree of intellectual challenge that the coursework presents.
Career Rating:
This rating measures the confidence students have in their school's ability to lead them to fruitful employment opportunities, as well as the school's own record of having done so. This rating takes into account both student survey responses and school-reported statistical data. We ask students about how much the law program encourages practical experience; the opportunities for externships, internships, and clerkships; and how prepared to practice law they expect to feel after graduating. We ask law schools for the median starting salaries of graduating students; the percentage employed in a job that requires bar passage (and not employed by the school); and the percentage of these students who pass the bar exam the first time they take it.
Admissions Selectivity:
This rating measures the competitiveness of admissions at each law school on a scale of 60–99. Factors taken into consideration include the median LSAT score and undergraduate GPA of entering 1L students, the percentage of applicants who are accepted, and the percentage of applicants who are accepted and ultimately enroll.