In the fall of 2018, Aggie law students teamed with environmental attorney Mark McPherson to assist in bringing sewage and potable water services to the Dallas County community of Sand Branch. Although the community is located near an operating water plant, Sand Branch has never enjoyed running water due to its unincorporated status. (For background information, please see here, here, and here).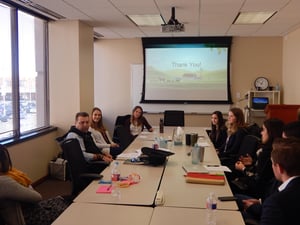 Students completed a research paper outlining legal requirements for the Sand Branch community to successfully sell fresh produce and eggs to farmers markets, restaurants, and retail outlets. This preliminary research provided the community with crucial information to continue building its argument for why Dallas County should supply Sand Branch with running water.
To many of the students involved, the fact that a Dallas County community is still without running water is fascinating. This revelation became the motivation for the pro-bono research project and brought together students and faculty with various interests and areas of expertise, such as agricultural law, food and beverage law, water law, environmental law, and policymaking.
Students presented their research to McPherson in November, and have since continued to stay up-to-date with Sand Branch's efforts to secure services for its community members. Third year students Lauren Thomas and Kristin Newby, along with faculty supervisor Lisa Rich, recently attended a committee meeting to meet the local team working on behalf of the Sand Branch community.
"Meeting the committee members who have worked on this ongoing project for several years now was very inspiring," said Newby. "Not only was each committee member an impressive and accomplished individual, but the collective compassion and perseverance was reminiscent of the altruistic side of law, too. It was lovely to hear that our relatively small contribution really helped a community in need, and hopefully will continue to help."

Students, staff, and committee members are hopeful to continue this partnership with the community and one day visit a Sand Branch community with running water.