Scott McDonald graduated from Texas A&M University with a BBA in Finance in 1988 and later attended Texas Wesleyan School of Law (now Texas A&M University School of Law). McDonald began his career practicing corporate law with firm in Round Rock, TX before joining the Texas Commission on Environmental Quality (TCEQ)'s Litigation Division in 1999. In this role, he handled cases involving water, air, and waste for two-years in Austin, Texas, followed by two-years in TCEQ's Dallas-Fort Worth Regional Office. In 2002, Mr. McDonald began working for EPA Region 6 in the Office of Regional Counsel, Enforcement Division, where he dealt with the Clean Water Act, the Safe Drinking Water Act, and RCRA (hazardous waste statute). Since 2006, he has served as the Water Branch Chief for Region 6.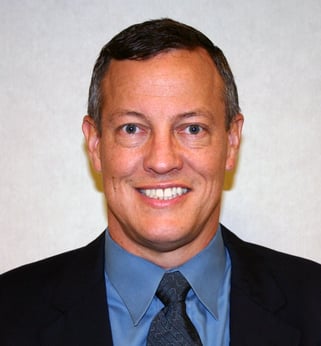 What are the responsibilities of the Water Branch Chief?
As Water Branch Chief, I provide legal advice and policy recommendations to the Regional Counsel, Regional Administrator, Division Directors, and client programs. I also assist with the interpretation and application of federal and state laws, regulations, policy, guidance, and statutes such as the Clean Water Act (CWA), the Resource Conservation and Recovery Act (RCRA), the Safe Drinking Water Act (SDWA), and the Oil Pollution Act (OPA). I direct, supervise, and manage staff attorneys, paralegals, administrative assistants, budget and resources, including implementation of policies; assignment of cases and projects; and maximizing resources to achieve agency objectives.
My additional responsibilities include drafting, issuing, and filing a wide variety of documents (motions, briefs, orders, complaints, settlements) involving complex legal cases that require knowledge of regulatory laws, permitting requirements, compliance standards, waste management, and pollutant discharge (NPDES) programs. Moreover, I ensure that administrative and judicial actions brought by my branch against the regulated community are legally sound and justified whereby the violations alleged and penalties assessed are supported by applicable laws, regulations, and policies. I also represent EPA and the legal division in external dealings, meetings, and interactions with the general public, citizen groups, regulated community, Congressional staff, and fellow agencies such as state, county, and municipal departments. Lastly, I support client programs in regulating various industrial sectors such as manufacturers, oil and gas producers, land developers/builders, and municipalities.
What changes have you seen take place at the agency throughout your career?
The EPA has remained essentially the same within the agency mission and objective "to protect human health and the environment." Our vision within the Enforcement Division is to make environmental compliance common throughout the country to achieve clean air, water, and land by ensuring compliance with Federal environmental laws thanks to partnerships with States and Tribes. Even though faces have changed and managers have left, the staff still works hard in performing their various duties. EPA Region 6 (Dallas office) alone has 11 Divisions and 50 branches, each with its own unique function and purpose. The agency primarily consists of scientists and engineers who are dedicated to their jobs and produce high quality work product, inspection reports, sampling data, etc. By following proper protocols and procedures, our technical staff develops good, sound cases supported by evidence, which makes the attorney's job much easier. I believe our legal office has a strong, effective working relationship with the different client programs. EPA's goals and objectives remain the same, however, various Administrations define priorities differently which may impact EPA's focus and funding from year to year.
What are some of the key environmental issues presently facing EPA Region 6?
EPA headquarters discusses with the ten Regional offices where together they decide which areas to focus on for the upcoming year. There are several different areas we focus on. One, high priority for us is creating cleaner air for communities by reducing excess emission of harmful pollutants. This includes both volatile organic compounds ("VOCs") and hazardous air pollutants ("HAPs"). Second, we will focus on reducing hazardous air emissions from hazardous waste facilities. The Agency has found that air emission violations associated with the improper management of hazardous waste remains widespread, thus we will particularly focus on improving compliance with hazardous waste Treatment, Storage, and Disposal Facilities and Large Quantity Generators with regulation that control organic air emissions from certain hazardous waste management activities.
Additionally, the EPA is committed to stopping aftermarket defeat devices for vehicles and engines. The Clean Air Act authorizes the EPA to set standards application to emission from a variety of vehicles and engines. Unfortunately, the EPA have found that numerous companies and individuals have manufactured and sold both hardware and software specifically designed to defeat the required controls on vehicles and engines, thus increased enforcement is needed. Moreover, the EPA will prioritize reducing significant noncompliance with national pollutant discharge elimination system permits. Compliance with National Pollution Discharge Elimination Systems (NPDES) permits is critical to protecting our nation's waters. Relatedly, we are focusing on reducing noncompliance with drinking water standards at community water systems.
Do you have any recommendations for students interested in working for the Environmental Protection Agency?
I recommend taking as many environmental courses as possible during law school to establish a comprehensive knowledge base of environmental law and related issues. Taking several environmental courses will not only expose students to more practice areas, but also increase your chances of being selected for EPA attorney positions.
We often have law students and recent graduates apply for EPA positions who attended law schools such as Vermont and Lewis & Clark, which provide specialized Environmental curriculums, so the more courses the better. I also recommend taking oil & gas classes, as well as real estate and real property-oriented courses. Those subject matters frequently overlap and come into play when practicing Environmental Law.