Freeman Mills, PC is an energy industry focused firm made up of 37 attorneys working in Dallas, Fort Worth, Longview and Tyler, Texas. The firm focuses on representing energy industry clients in a variety of litigation, title and transactional matters.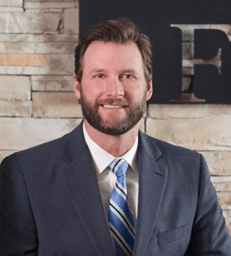 Founding Partner Jason Mills says he has always enjoyed working with and getting to know the people who work in the oil and gas industry. Whether it's landmen, geologists, or CEOs, Mills says "it seems like the folks who work in the industry are very down to earth and friendly. I also believe that a successful U.S. energy industry is essential to a healthy society and that working towards energy independence for our country is a good idea. I take pride in knowing that we help our energy industry clients get their business done".
When looking for potential new associates, Mills looks for a strong background in real property law and good research and writing skills. The firm currently has three Texas A&M School of Law alumni working in its Fort Worth Office. Michael Windus '18, Alexis Jenkins '17 and Timothy MacGorman '18 all work in the title division and are tasked with conducting oil and gas title examination and drafting drilling and acquisition title opinions.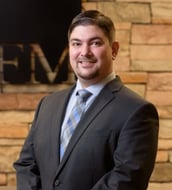 When asked about extracurricular recommendations for law student interested in practicing natural resources law, Timothy MacGoman recommends that students join the Texas A&M Journal of Property Law. He says, "Membership on the Journal is a great opportunity to research, study, and write about the myriad issues lawyers deal with in this and similar areas of practice. Moreover, any involvement with the Oil and Gas Survey is an excellent way to stay abreast of developments in the law and the way different jurisdictions deal with oil and gas legal issues." Tim says, "More importantly, I would recommend interning with a law firm that practices in that area or a similar area of practice to see what it is like and to get practical experience. The transition from law school to practice can be jarring for some attorneys, but you can prepare yourself by working with attorneys who have already made the transition."
Alexis Jenkins recommends several courses she took at Texas A&M Law that help her in her career today at Freeman Mills. At the top of her list is Texas Real Property with Associate Dean Stephen Alton. "I cannot express enough how much this class has helped me in my practice." She says, "Dean Alton covered so much in a semester that applies to what I do every single day as an oil and gas attorney, including deed issues, adverse possession, warranties, chain of title issues, easements and real covenants." Another course Alexis highly recommends is Water Law with Professor Gabriel Eckstein, who is "THE expert in the field of water law, which isn't an easy topic to grasp," she says. "His class gives you a great general understanding of national and state water issues that a natural resources lawyer might come across in their practice." Finally, Alexis encourages students to take Agriculture Law with Adjunct Professor Jim Bradbury who "gives a great overview of issues that natural resource lawyers might encounter, including oil and gas, water law, eminent domain and other property issues. "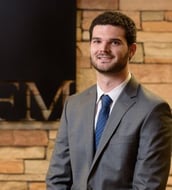 The firm also provides an excellent year long clerkship program for upper level students interested in Natural Resources and Energy Law. Michael Windus, now an associate at Freeman Mills, completed the clerkship program his 3L year. When asked about his transition from law student to oil and gas attorney, Michael said, "Clerking at Freeman Mills greatly helped me transition to be an associate. The clerkship program allowed me to begin my work as an associate with a solid foundation and understanding of oil and gas law and title examination."
Katlyn Humbarger (3L) and Jessy Bonds (3L) have clerked with Freeman Mills throughout their 2L year and summer. When asked about balancing law school coursework and clerkship responsibilities, Jessy said, "Like all things, it is a little rocky at the start, but then you learn how to manage your time very efficiently and learn how to prioritize projects and schoolwork. Luckily, Freeman Mills is completely understanding when it comes to school commitments and they are flexible with your schedule, as they want you to be able to succeed in your academics."
Through the clerkships students gain experience in the real life application of oil and gas law, title examination, and wills and estates law. "Putting what I have learned in the classroom into real life scenarios, such as Wills & Estates, Civil Procedure, Legislation & Regulation, and Legal Writing has been invaluable," says Jessy. She adds that law firm clerkships are also excellent opportunities for students to network and build relationships with the attorneys in the area where they one day intend to practice.