This Spring, the Texas Legislature convened in Austin for its 86th Legislative Session. The session saw debates over pipeline construction interference, natural disaster readiness in the wake of Hurricane Harvey and the future renewable energy in Texas.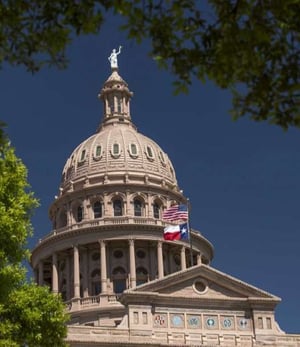 House Bill 3557, otherwise known as the "Critical Infrastructure Protection Act" increases penalties against protesters who engage in certain types of civil disobedience in protest of pipelines, oil tanks and drilling sites. The law, signed by Governor Abbott in June, is seen as an attempt to discourage the types of protests that occurred in response to the construction of the Dakota Access and Keystone XL Pipelines. The new law classifies "knowingly damaging protected infrastructure" as a third degree felony and makes trespassing with the "intent to damage" or "impair or interrupt operations" punishable by up to 10 years in prison.
The Legislature also passed 4 notable disaster preparedness and relief bills:
One of the most important pieces of Harvey-related legislation, SB 7 by Sen. Brandon Creighton and Rep. Dade Phelan, established a framework to create the "Texas Infrastructure Resiliency Fund." The bill received bipartisan support and would create four accounts with a designated purpose related to disaster preparedness and response. One would use state money to help local communities with matching the funds needed to complete projects that are eligible for partial federal funding.
Additionally, HB 5 by Rep. Phelan and Sen. Lois Kolkhorst, requires the Texas Division of Emergency Management (TDEM) to develop a catastrophic debris management plan and training. The bill also establishes a work group to make recommendations on how local governments and property owners' associations can assist with recovery efforts and requires the TDEM to provide local governments with a "model contract" for debris removal services.
Also impacting TDEM is HB 7, by Rep. Geanie Morrison and Sen. Joan Huffman, which requires the TDEM to develop a plan to assist local communities with disaster preparation contracts for vital services.
Lastly, SB 6 by Sen. Kolkhorst and Rep. Morrison, requires the TDEM to develop a "disaster response model guide" and a wet-debris study group for local communities. SB 6 will also create a disaster recovery loan program within the TDEM to financially assist communities that suffered significant infrastructure damage following a natural disaster.
The future of renewable energy in Texas may have been impacted more greatly by what did not pass during the session than by what was sent to the governor. One proposal, HB 2908, would have attempted to discontinue wind and solar subsidies. There was also an effort to make renewable development projects ineligible for local tax incentives. However, neither initiative made it out of the session, which suggests the influence of the renewable industry in the Texas Legislature is increasing.