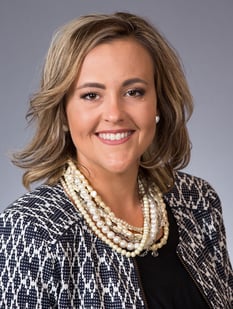 Stephanie Bradley Fryer, a dynamic student during her time at Texas A&M Law and enterprising attorney since graduating in 2017, has not slowed down one iota. Fryer recently hung her own shingle with the establishment of Stephanie Bradley Fryer PLLC. In an effort to further enhance the services she provides to clients, Stephanie also serves as Of Counsel to Rincker Law.
After graduating from Texas A&M Law, Fryer worked as an associate attorney at a firm in her hometown of Stamford, Texas, where she practiced agricultural law and in areas relating to the ag sector, including estate planning and administration, real estate law, and oil & gas law. Fryer now continues a similar focus at her own firm where she offers legal services for estate planning, real estate, and business planning to rural landowners.
Fryer points out that estate planning and administration is probably an area of law that people least intuitively think of as relating to agriculture and natural resources, but as Fryer explains, "The planning I do is for a lot of people like my grandparents, who want to make sure that their family farm—their land asset—is around for the next generation."
Personal connections in the small town and its surrounding area in which she practices serve Fryer well in her legal profession. Her background in the ag industry and growing up on her own family farm also provide her with the experience and ability to relate to her clients.
These roots not only provide her with the background necessary to run her practice, but also keep Fryer exceptionally busy in another line of business: Fryer is a fifth generation landowner in Texas and spends evenings helping her family operate their cattle ranch after weekday hours in her law office. She then spends weekends in Oklahoma with her husband on his family's fourth generation farm where they run a commercial cattle operation that requires her to travel weekly between southwest Oklahoma and west Texas.
These personal ties to family farming help Fryer build rapport with clients and assist them in navigating legal issues related to land and agriculture. The majority of the issues that come across Fryer's desk have a direct connection to natural resource law.
"We deal with imminent domain issues and pipelines, trying to write in favorable terms for landowners about what (oil & gas) companies can and cannot do," she explains. "We review leases to check that the language includes simple things like requiring companies to pick up trash, and if they tear up grass then requiring them to replant it."
Another conversation Fryer often has with her clients regards environmental conservation aspects of managing land. Discussions often involve cost savings opportunities of environmental preservation, i.e. how conserving resources often equates to conserving money. From her perspective, the myriad areas of law related to natural resources are not polarizing. Agriculturalists, environmentalists, and companies exploring and mining resources are all equally concerned with sustainable development.
"A lot of people don't think about the agriculture industry and people in agriculture as caring about natural resources, but everything we do depends on air, water, weather, land," Fryer explains. "It all affects our ability to keep land in the family. Cattle ranchers are also grass farmers because we take into consideration not overstocking so that grass doesn't die, and when it comes to water issues—we have limited supplies of water, so WOTUS rules affect clients just like they affect my family."
Fryer admits that her initial interest in agriculture stems from her upbringing, but her decision to be involved in the agriculture industry through the law came via her work with the USDA before law school. Once in law school, Fryer took advantage of every opportunity to be involved in TAMU Law's NRS program as well as extra-curricular opportunities with the American Agricultural Law Association (AALA).
One of Fryer's most memorable experiences in law school was an international trip to Guanajuato, Mexico with Professor Eckstein: "There were a lot of agricultural issues to follow in Guanajuato and my interest in policy and law grew as a result of the experiences on that trip, especially as related to trade issues between countries."
Not only was this trip inspiring to Fryer and her legal career, but the opportunity to travel abroad and discuss legal issues on an international level cemented Fryer's approach to law school.
When asked whether she had any advice to current law students interested in a career in natural resources, Fryer says, "Go out of your comfort zone. Whatever you are interested in, be involved in those clubs. Go to the meetings, hand out your card, and stay busy. Build bonds with professors who are in areas of law that interest you. You only have three years to take advantage of those opportunities, and attorneys won't answer as many questions for free once you graduate."
Fryer certainly followed her own advice and stayed busy during her time at TAMU Law. Given her current success in and out of the law office, it is clear that she has not let up on that drive to stay busy in her professional life.