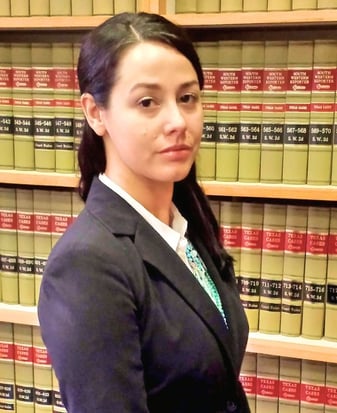 Stacie Dowell has been working for the Trinity River Authority (TRA) since 2012, when she was hired as a paralegal. Having graduated from Texas A&M School of Law in 2017, she is now an associate in that legal department. In her role, she encounters a wide variety of legal issues spanning contract, employment, business, property, and water law.
What drew you to the Authority? Why did you choose to apply for a position with the general counsel?
That is actually a funny story, I didn't actually apply to the Authority, I was approached by them for the position. The current General Counsel's wife was a paralegal at a family law firm, and she was looking for her replacement as she was leaving the firm to have her first child. I applied for the position at the family law firm, and she gave my resume to her husband for consideration. The Authority's General Counsel then called me about the position and I went in for the interview.
What does an average day look like for you?
On a typical day I may draft, review or revise contracts, respond to a public information request, and advise staff on various topics such as land rights acquisition, governmental procurement guidelines, and personnel matters.
What issues does the Authority address as an agency?
The Authority is one of several agencies that ensure that we have adequate water supplies now and for the future of the Trinity River Basin. We do that by participating in regional and state water planning, and by securing new water rights to meet future needs. The Authority is also becoming involved in flood mitigation activities in the aftermath of Hurricane Harvey and several years of significantly above-average rainfall. The Authority's primary business line in the Metroplex is wastewater treatment. The clean effluent discharged becomes a source of water supply both in the Metroplex and the southern Trinity River Basin.
How closely does the Authority work with municipalities such as the City of Fort Worth?
The Authority is the largest wholesale provider of wastewater treatment services in the State of Texas. The Authority works with over thirty cities in the Metroplex, to which it provides both wholesale wastewater treatment and treated water supply. The majority of the Authority's customers in the basin are cities.
What other organizations does the Authority work with regularly?
The Authority operates in a regulated environment. We frequently work with the Texas Commission on Environmental Quality, the Texas Water Development Board, and the United States Army Corps of Engineers. We also participate in a number of water-related organizations such as the Texas Water Conservation Association and National Waterways Conference. Those organizations provide policy making support at both the state and federal levels.
As the population grows, what are some of the most pressing questions the agency has to evaluate?
As the population continues to grow, river authorities have to consider the best ways to meet future water demand. The population of Texas is on track to double by 2070. While conservation can help meet additional needs, new supplies must also be developed. In addition, we have to balance the additional demands created by recurring droughts with the best ways to manage the historic flooding we've seen in recent years.
What roles do you see the legal community playing in the future with regards to resource allocation?
Lawyers play a critical role with regard to water supply allocation. Water lawyers aid in securing new water rights, drafting contracts that convey supplies, and also contribute to policy making in Austin with regards to water. They work with engineers and hydrologists to meet both current and future demands.
What advice can you offer to law students? What can law students do to prepare for work with an agency like the TRA?
I would recommend getting a firm grasp on the basic legal principles of contract law, civil litigation, business, and property law. An agency like TRA encounters issues within those areas pretty regularly, and having a sound knowledge of those subjects will give you good footing to build on. I would also tell law students to take time to relax; and although you need to take law school seriously, try not to take it too seriously.