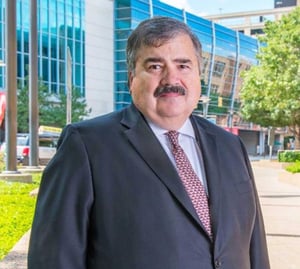 Executive Professor of Law, Harry Sullivan's expertise in international oil and gas law drives his classroom focus on teaching future attorneys the importance of understanding their client's industry business practices to achieve their complex transactional objectives. As former Senior Counsel for ConocoPhillips, and currently Assistant General Counsel for Kosmos Energy Ltd., Professor Sullivan is able to share the practical industry-focused knowledge he has acquired throughout his career in-house with oil and gas companies in his Oil and Gas Law, International Petroleum Transactions, and Oil and Gas Drafting classes.
While in school at Louisiana State University, Professor Sulllivan says he, "certainly never imagined that [he] would spend 39 years practicing oil and gas law [or] that oil and gas would become a passion and that [he] would be teaching oil and gas topics."
His path to oil and gas was rather indirect, to say the least. No one in his extended family had ever worked in the oil and gas industry and he had no other exposure to the industry.
After graduating from law school and passing the Louisiana bar exam, Sullivan settled into a 30 month civil appellate judicial clerkship. At the end of the clerkship, Sullivan says, his wife urged him to get a "real job," which took the form of a four person firm practicing in rural Louisiana. Sullivan gained experience in varied civil practice, including real estate transactions, family law matters, civil litigation, and a great deal of contract work.
Professor Sullivan's ticket to the oil and gas industry came in the form of a newspaper employment advertisement seeking a Louisiana lawyer to join Sun Oil Company in Dallas, Texas. Sullivan answered the ad, and began a career in the oil and gas industry that included: five years with Sun Oil Company, fifteen years with Atlantic Richfield Company (ARCO), six months with Thompson & Knight LLP, fourteen years with Phillips Petroleum Company and ConocoPhillips, and five years with Kosmos Energy Ltd.
Q&A:
How have you seen the oil and gas industry change over the course of your career?
The oil and gas industry has changed in many dramatic ways during my career. Oil and gas is a very price sensitive and cyclical industry. The various price cycles I have witnessed have included period of industry consolidation and emergence of new players, capital discipline and spending waste, doing more internally with less resources, and extravagant hiring of outside assistance. The oil and gas industry today, while often characterized as monolithic and impersonal, is reflective of our current society, having come of age along with the societal shifts we have experienced over the past decades. Oil and gas companies today are much more diverse and inclusive in employment than when I began my career, and are more concerned about the environment and the communities in which they operate and laser-focused on safety. This hasn't always been the case in the oil and gas industry.
Why is it is important that all practicing attorneys in Texas have a general understanding of oil and gas law?
Texas is one of the largest producers of oil and gas in the world. Oil and gas permeates many aspects of Texas life. Any attorney that practices law in Texas will be confronted at some point in her career with some aspect of the oil and gas industry. I personally have encountered oil and gas issues in real estate transactions, in family law matters, in wills and inheritance situations, in a criminal law setting, reviewing oil and gas leases for friends and relatives, and in a variety of contracts with oil and gas industry companies. Having a general understanding of the law impacting the state's most important industry is, in my view, essential for becoming a well-rounded Texas attorney.
Do you have any advice for law students interested in practicing oil and gas law?
Be patient, but persistent and flexible. Historically the upstream oil and gas industry has preferred to hire experienced attorneys over hiring recent graduates. So, how do you get the experience the industry values? While law firms are a path to the oil and gas industry, law firms do not need that many oil and gas attorneys. However, lawyers in the oil and gas industry work in a wide variety of legal and non-legal positions.
On the legal side, oil and gas lawyers practice transactional law, environmental law, litigation, arbitration, employment law, compliance, intellectual property law, bankruptcy law, labor law, tax law, etc. On the non-legal side, lawyers are landmen, commercial negotiators, governmental affairs representatives and a host of other positions. Get your experience, keep networking and the right opportunity will present itself.
Additionally remember that there are other parts of the oil and gas industry, namely the midstream sector, the downstream business, and the oil field services sector. The midstream and, especially, the services sector, are highly contract reliant business, often hiring new law graduates. Both sectors are great places in their own right to work in the oil and gas industry or to gain oil and gas industry experience.
While you are gaining experience, stay plugged into oil and gas industry contacts and connections. The oil and gas section of your local bar association or of the State Bar of Texas have great networking opportunities, as do industry associations like AAPL, AIPN, RMMLF, IEL, etc.
What do you feel are the primary challenges that are unique to in-house attorneys as opposed to attorneys practicing in a firm? Are there any particularly unique benefits?
Almost all of my career has been spent in-house and I thoroughly enjoy being part of the in-house team. In-house you are exposed to the entire business deal, generally from start to finish, and you get to help influence the business deal throughout its entire life cycle. Some outside lawyers get to have the same influence, but that is not the general rule. The biggest challenge of working in-house, in my experience, is learning and understanding the business so that you can add value to the business, which is a challenge for outside lawyers also.
People like to say that the big benefits of in-house practice are no client development, no time writing and shorter hours. While this may be true for some in-house opportunities, I have not experienced these benefits. While the client is your employer, there is still a lot of client development type work to be done in becoming a valued member of the business team. Some companies time to specific projects, albeit in 15 minute or greater intervals instead of the 6 minute used by many firms. Office hours in-house are very dependent on the type of work you do. I have clients in other time zones and routinely work at home to meet deadlines.
What early career steps would you recommend to law students and new attorneys who would like to practice in-house?
Put your best effort into everything you do and do the best job that can be done. Quality work will increase the opportunities available to you. Keep an eye out for in-house opportunities. In many cases, in-house lawyers were once great outside counsel that the company previously employed.
Do you have any recommendations for students and young attorneys interested in practicing law internationally?
We live in a very global society today. There are lots of opportunities that can lead to international work. Seek them out, whether they are in a firm or in a particular industry, and don't be afraid to take a chance