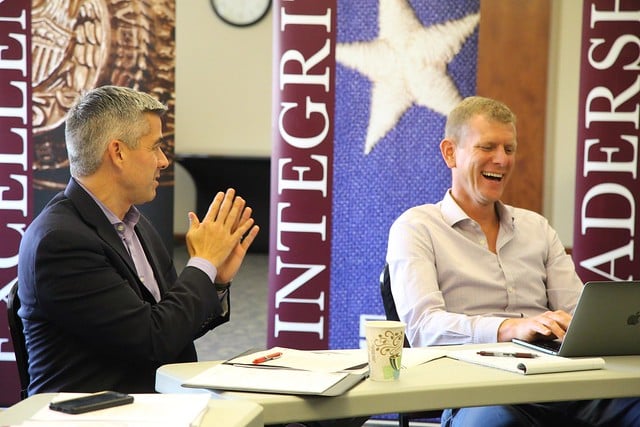 August 29-30, a select group of environmental scholars from across the country was invited to a workshop at Texas A&M University School of Law(TAMU Law) to present their ongoing environmental law-related research. This first-ever Environmental Schmooze (or EnviroSchmooze) focused on climate change issues and challenges. The purpose of the workshop was to allow participants to engage in meaningful conversations and analyses in a safe environment on critical legal and policy issues related to the papers. As a result, presentations were limited to 10 minutes and substantial time was set aside for the discussions.
Professor Holly Doremus, of the U.C. Berkeley School of Law, opened the workshop with her newest project on competing interests in West Coast resource allocation. In her contribution, Professor Doremus argued that an ethics and values-based approach to land use regulation is long overdue, with the key conclusion being that, once a decision is made that conservation goals require limits on the allowable extent of resource exploitation, the equities of allocation of the benefits of that allowable exploitation are important. TAMU Law's own Professor Felix Mormann followed Professor Doremus with his draft paper on the benefits, costs, and proper role of adaptive regulatory schemes in energy policy. Mormann proposed a normative theory of adaptive regulation, which he argued is superior to algorithmic governance, though he maintained that not all areas of governance are well-suited for adaptive regulation.
Next, Gabriel Weil from the Climate Leadership Council & Georgetown University Law Center discussed the carbon price equivalent metric. Weil argued that his metric can serve as a crucial tool to support coercive climate diplomacy and enable accurate border adjustment of domestic emissions policies. Weil was followed be Professor Mark Nevitt, currently a Sharswood Fellow at the University of Pennsylvania Law School, but will soon join the U.S. Naval Academy in Annapolis, Maryland as the "Class of 1971 Distinguished Professor of Leadership and Law." Nevitt presented his article highlighting climate change as a "threat accelerant" in the national security context, citing increasingly frequent extreme weather patterns threatening nations' sovereignty through rising sea levels, as well as national integrity through threats to food and water security.
The second day began with TAMU Law's Professor Vanessa Cassado Perez, who presented her research on the mitigation of the potential externalities from the increasing commodification of water. Professor Cassado-Perez identified investment from greenhouse gas emitters, a failure to recognize communities of origin's water rights, increased consumer cost, and antitrust concerns as potential negative externalities. Following Cassado-Perez, Professor Arden Rowell of the University of Illinois College of Law presented a chapter from her forthcoming book entitled, "The Psychology of Environmental Law," which is informed by her background in behavioral economics. Professor Rowell addressed the psychology of climate change law and policy providing insight into opportunities for crafting more effective and tailored climate-related strategies for shaping human behavior.
Professor Rob Glicksman from George Washington University School of Law closed the workshop by presenting a chapter from his recently published book, "Reorganizing Government: a Functional and Dimensional Framework." The book proposes an analytical framework of governmental authority structured along three dimensions – centralization, overlap, and coordination – and identifies the respective values and trade-offs of each model. The chapter he shared with the workshop, entitled "Synthesizing Some Lessons: Allocating Authority for Managing Climate Change," drew inferences from this framework to propose more plausible and justifiable configurations for managing climate change.
Following the workshop, Professor Doremus said that the "Schmooze" was the "most fun and useful event [she had] attended in several years." She added, "the scholarship was first-rate, the comments incredibly helpful, and the camaraderie truly enjoyable. Texas A&M has built an impressive environmental and energy program, and the program faculty have come up with a wonderfully creative way to encourage and sustain strong scholarship and a supportive scholarly community in these broad and important fields. I'm grateful to have been a part of this first EnviroSchmooze, and hope it becomes a regular event."
Professor Nevitt stated that, "Texas A&M fostered a collegial environment, and provided the unique opportunity for everyone's opinion and input to be heard," while Professor Glicksman remarked, "the Environmental Schmooze gathering was informative, productive, and fun. The papers, though linked to a climate change theme, covered a wide array of issues that kept the discussion fresh. The feedback provided to the authors of all the papers was tremendously useful. I hope this becomes an annual event and that I'm able to make a return appearance in the future."
The event was especially well-characterized by Professor Nevitt, who following the event, noted to TAMU Law's Dean, Bobby Ahdieh, that "The first annual enviro-schmooze was a truly unique event and incredibly worthwhile. [The event] highlighted Texas A&M's growing impact in the area of environmental and natural resources law." Nevitt added, "What made it special? First, this was a particularly intimate setting of 10 scholars who presented their latest research on a broad range of environmental topics (e.g. water law, energy law, empirical work, climate change and national security). I came away from the "Enviro-Schmooze" confident in my current project and two additional ideas for future scholarly work."