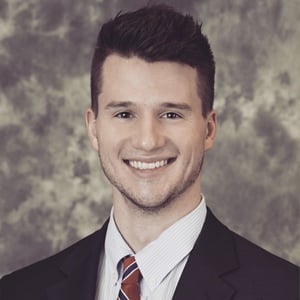 Texas A&M Law alumnus Stuart Campbell's '17 crusade to protect tenant rights and prevent illegal evictions, especially during the pandemic, was covered by the Fort Worth Star Telegram in a recent article. When the CARES Act was established, it protected tenants from eviction filings and fees for nonpayment of rent from March 27 – July 24, if the properties were backed by federal mortgages. Despite the ruling, it has not been uniformly enforced, and evictions are still being filed. Tenants were put in the position of proving their properties were covered by the CARES Act because the burden of proof was on them. Campbell has spent the last three years working for tenant rights serving as a staff attorney at Legal Aid of NorthWest Texas, and he has been working diligently to help clients navigate the waters of the CARES Act.
While in law school, Campbell made the decision to go into tenant rights after an internship with the Tarrant County Court of Law #1. There, he witnessed many people, particularly women and people of color, get railroaded and lose their cases during the appeals process.
He has had the opportunity to work with the TAMU Law Community Development Clinic and enjoyed the experience of working with Texas A&M Law professor Luz Herrera. He only wishes the clinic had been open during his time as a student. This summer, he served as a panelist for a law school webinar centering on how the CARES Act has impacted evictions in the age of COVID-19. The webinar is part of the ongoing TAMU Law Answers free webinar series.

During his time as a student, Campbell participated in a residency externship program in public policy in Austin where he worked for a non-profit during the 2017 legislative session. Lisa Rich and John Murphy were his favorite professors, and he was able to work as a teaching assistant for Rich for three semesters. She mentored him and advised him to get experience where he would have the opportunity to witness the trickle-down of policy going into effect and helping people. Murphy was key in helping him with his legal writing – a skill that has continuously helped him in his current role.
When it comes to the Aggie core values, Campbell most relates to selfless service, and based on his continued relationship with the law school as an alumnus and his work with Legal Aid, there's no doubt that the law school and his clients would agree.
Click here to view the Star Telegram article.