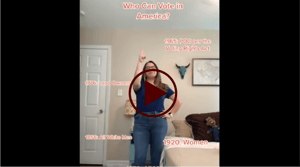 To celebrate Constitution Day, student members of the American Constitution Society and the Federalist Society at Texas A&M University School of Law collaborated on a series of videos (linked below) highlighting the voting rights provisions of U.S. Constitution. Reading and offering brief reflections on those provisions - the 15th Amendment, the 19th Amendment, the 24th Amendment and the 26th Amendment - the students sought to highlight the importance of voting as a fundamental Constitutional right.
"There may be no more critical right enshrined in our Constitution than the right to vote," says Professor Meg Penrose, who encouraged the student collaboration. "We thought there would be no better way to celebrate Constitution Day this year than emphasizing the importance of voting - especially for young Americans."
As a further part of Texas A&M Law's celebration of Constitution Day, the faculty and staff of the law school also collaborated on a video performance of the Schoolhouse Rock! celebration of the Preamble to the Constitution. That video can be found here.
Voting Rights Provisions of the U.S. Constitution
Check out the Constitution Day playlist here!