Texas A&M University School of Law dean, Robert "Bobby" Ahdieh, joins the Board of Directors of Downtown Fort Worth, Inc.

Downtown Fort Worth, Inc. (DFWI) was established in 1981 to plan, advocate and manage public space projects in the downtown area. It is a 501(c)(6) non-profit membership organization, focus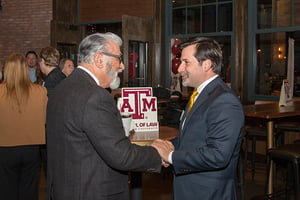 ed on making downtown Fort Worth a "premiere destination for work, leisure, living and shopping."
"Given the School of Law's strong commitment to Fort Worth and its downtown, I could not be more pleased to join in DFWI's important work." Interesting facts (source: DFWI.org):
DFWI leads the downtown strategic action planning process, conducted every 10 years. Plan implementation, advocacy and advancement are championed by DFWI volunteer leaders and staff. Plan 2023 is available here.
DFWI started and manages the first Public Improvement District in the state of Texas, established in 1986 and Fort Worth PID #14. The PIDs provide enhanced services to property owners including maintenance and landscaping, public space management, promotions and marketing, research, transportation, planning and security services to 564 acres of Downtown. More about the PIDs here.
DFWI administers Fort Worth's first Tax Increment Finance District (TIF) by contract with the City of Fort Worth. Eligible TIF projects include parking, infrastructure assistance to new developments, historic preservation, affordable housing, transportation, and education. More about the TIF here.