Texas A&M University School of Law clinic client, Carlos Gonzalez, is a Gulf War disabled veteran who, in 2017, sought legal assistance from the law school regarding his driver's license. Supervising attorney and faculty member, Karon Rowden, and students resolved the issue for him with a hearing in a county court.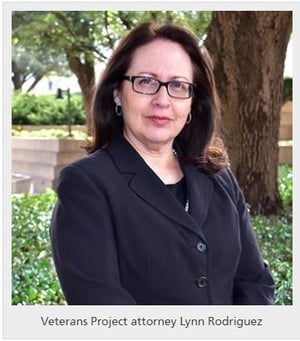 Gonzalez's relationship with the School of Law clinics continued as he filed for full disability from the U.S. government--aided by supervising attorney Lynn Rodriguez and student Paula Pitter. Pitter, a veteran also, presented the idea of filing for total disability, individual unemployability (TDIU) for Gonzalez, with the hopes of a 100 percent disability ruling.
After several months of research and work, the claim was filed in March 2019 and ruled upon in May. The claim was approved, and Gonzalez's monthly disability payments doubled.
"The increase gave Mr. Gonzalez, who was previously homeless, the ability to better provide for himself and live more comfortably," says Celestina Flores, professor and director of the Family and Veterans Advocacy Clinic at TAMU Law.
Gonzalez is making a donation to the Family and Veterans Advocacy Clinic. In a thank you note, he wrote that the law school's clinic services are supervised by "elite attorneys" and are the "very best."
"These are invaluable lessons learned by our students, not only about the practice of law, but also the importance of making a true difference in a client's life," says Flores.