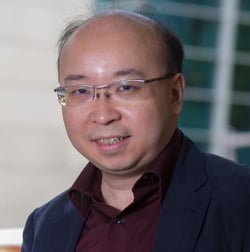 Texas A&M School of Law Professor Peter Yu is among the top 250 legal authors (both current and deceased) listed on HeinOnline. The list is created based on an analysis of all the articles in the database, including those from the past two centuries.
In addition to preeminent legal scholars in the nation, this list is considered distinguished and includes Supreme Court justices Louis Brandeis, William Brennan, Felix Frankfurter, Ruth Bader Ginsburg, and Antonin Scalia; noted appellate judges Guido Calabresi, Frank Easterbrook, Harry Edwards, Henry Friendly and Richard Posner; and legal giants such as Ronald Coase, Ronald Dworkin, John Hart Ely, Lon Fuller, H.L.A. Hart, Karl Llewellyn, Roscoe Pound, William Prosser and Herbert Wechsler.
Professor Yu directs the Center for Law and Intellectual Property at Texas A&M University School of Law and holds a joint appointment at the School of Law and the Department of Communication at Texas A&M University. He is an award-winning teacher, a prolific scholar and a world-renowned expert on international intellectual property law.
Under his leadership, the intellectual property law program at Texas A&M University has been transformed into a leading international hub for research and education in the field. In the past four years, peer surveys conducted by U.S. News and World Report have ranked Texas A&M consistently among the top 10 intellectual property law programs in the United States.
The following methodology was used to create the HeinOnline list:
"[HeinOnline] ranked each author in each category: number of times cited by articles, number of times cited by articles written in the past 10 years, number of times cited by articles written in the past 12-24 months, number of times cited by cases, and number of times accessed and averaged the rankings to produce this list of the 250 authors that scored the highest when averaging all categories."
HeinOnline is a premier online database containing more than 182 million pages and 281,000 titles of historical and government documents in a fully searchable, image-based format. HeinOnline bridges an important research gap by providing comprehensive coverage from inception of more than 2,800 law-related periodicals. In addition to its vast collection of academic journals, HeinOnline contains the entire Congressional Record, Federal Register and Code of Federal Regulations, complete coverage of the U.S. Reports back to 1754, and entire databases dedicated to treaties, constitutions, case law, world trials, classic treatises, international trade, foreign relations, U.S. Presidents and much more.