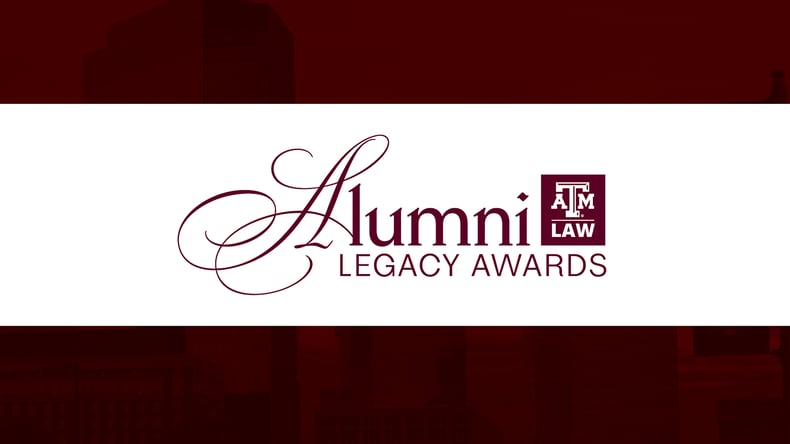 Texas A&M School of Law will honor seven alumni at its 3rd Annual Alumni Legacy Awards Reception. The reception will be held on Saturday, October 21, at the Worthington Renaissance Downtown Fort Worth at 6:00 p.m.
Hosted by the Texas A&M Law Alumni Board of Directors, the awards recognize outstanding law school alumni and their individual achievements, contributions to their professions, service to their communities, and loyalty to the law school.
The 2023 Texas A&M Law Alumni Legacy Award recipients are:
Judge Joe Spurlock II '60 Alumnus/Alumna of the Year Award
Andrea Loveless '03
Founder and Senior Partner, Loveless Law Firm, LLP

Rising Star Award
Hisham A. Masri '15
Employment Counsel, Flowserve Corporation

Private Practice Achievement Award
Christopher J. Parvin '03
Founder and Managing Director, The Parvin Law Group, P.C.

Public/Non-Profit Sector Achievement Award
Lauren Black '09
Deputy Administrator, Dallas County District Attorney's Office

Community Impact Award
Rosa Maria Berdeja '09
Founder and Managing Member, The Law Office of Rosa Maria Berdeja

Outstanding Legal Masters Award
Peter Elgohary '22
Program Manager - Global Building Standards, Shell USA

Dean Emeritus Frank W. Elliott Dean's Advocate Award
Terry Bentley Hill '08
Founder and Owner, Law Office of Terry Bentley Hill
The Texas A&M School of Law Alumni Board provides networking, professional, and community-building opportunities for alumni, current students, and the legal community.
Net proceeds from this year's event will help fund the newly established Professor Emerita Lynne Rambo Endowed Scholarship. Full event details, including ticket purchasing, parking, and sponsorship packages can be found on the event page.