A&M Law students and faculty are among those awarded for advocating for the rights of detained immigrant women.
The Texas A&M University School of Law Immigrant Rights Clinic, directed by Professor Fatma Marouf, jointly received the Clinical Legal Education Association (CLEA) Award for Excellence in a Public Interest Case or Project with law clinics from Boston University, Columbia, Harvard, and the University of Georgia.
The award recognizes the clinic's participation in the Irwin County Detention Center Project (ICDC Project), a collaborative effort that addressed alleged abuses at a U.S. Immigration and Customs Enforcement (ICE) detention facility in Irwin County, Georgia.
According to the CLEA announcement, "The Project's efforts have resulted in the release of nearly all 80 women in ICDC, as well as over 200 men. The work has generated national media coverage and elicited a crucial intervention from 100 members of Congress. Overcoming barriers of geography, access, and the pandemic, the clinics' work exemplifies the use of multi-faceted strategy and collaborative practice to address a shocking injustice."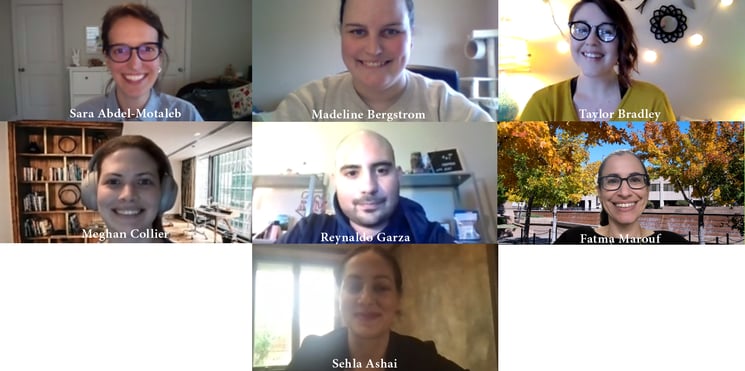 Texas A&M Law students participating in the effort were Sara Abdel-Motaleb, Madeline Bergstrom, Taylor Bradley, Meghan Collier, and Reynaldo Garza. They were advised by Adjunct Professor Sehla Ashai and Professor Fatma Marouf.
"The women at Irwin showed enormous courage in speaking out about what happened to them. They were not silenced even when threatened with deportation," said Marouf. "Our law students rose to the challenge of helping defend the women from deportation. Clinic students are advocating for the women at every level, from administrative complaints to federal appeals."
In a video featuring reflections from some of the students on their experience, Abdel-Motaleb (A&M 2L) said, "This is the first time I've worked directly with clients. It helped me realize that I want to spend a significant part of my career working on policy change. I've been inspired by the work ethic and creativity of all the different actors involved in this project."
Clinics from the five law schools joined forces with the National Immigration Project of the National Lawyers Guild (NIPNLG), Project South, and two law firms (Dreyer Sterling LLC and Jenner & Block) to co-counsel a class action complaint on behalf of fourteen women, and others similarly situated, who alleged medical abuse, neglect, and retaliation in violation of their First Amendment rights while detained.
The complaint included allegations of nonconsensual, medically unindicated, or invasive gynecological procedures authorized by ICE and ICDC. As the project continued, further information emerged about a broader pattern and practice of medical abuse and mistreatment at the ICDC. One of the claimants in the case was recently featured in a short documentary produced by the BBC.
The participating law school clinics jointly receiving the award are:
Boston University School of Law, Immigrants' Rights and Human Trafficking Program
Columbia Law School, Immigrants' Rights Clinic
Harvard Law School, Immigration and Refugee Clinical Program
Texas A&M University School of Law, Immigrant Rights Clinic
University of Georgia School of Law, Community Health Law Partnership Clinic and First Amendment Clinic
In a letter supporting the nomination, NIPLIG Executive Director Sirine Shebaya, said, "No single clinic, nonprofit, law firm, or advocate could pull this project off alone; its success depends on the combined efforts of all the participants in the project. Although the project has many facets, the core mission underlying all of them is the attempt to protect against, or seek redress for, significant and widespread violations of human, health, and constitutional rights."
Texas A&M Law's clinical programs recently received additional affirmation from legal academy peers when it ranked No. 32 nationally (up 22 places over one year) in U.S. News & World Report Best Law Schools.
Professor Luz Herrera, associate dean for experiential education, oversees A&M Law's clinics and was among those nominating the project for the award. "Our Immigrant Rights Clinic engages in important and meaningful work at all levels," she said. "It is great to see our students leverage their work by collaborating with other law school clinics to magnify the impact of their efforts. Prof. Marouf and Prof. Ashai are great role models that inspire excellence in advocacy."
The Texas A&M Law Immigration Rights Clinic engages law students in direct representation of immigrants before the Immigration Courts, Board of Immigration Appeals, U.S. District Courts and U.S. Courts of Appeals. Their representation focuses on deportation defense, federal litigation on immigration detention and affirmative filings for survivors of crimes and abuse.